*Revision note 2017: Viscount West is now Sunny's Pools & More*
THIS PROMOTION HAS EXPIRED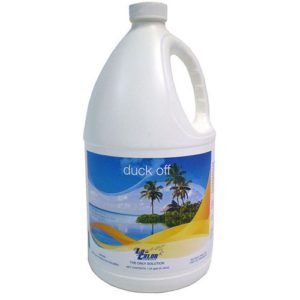 Viscount Monroe no longer has Billiards, refer to Waterford as clearance center for Tables.
Do you want the ducks off this summer? Birds in the pool can be harmful for them and humans. The poop that they leave in the pool contaminates the water. Also, drinking too much chlorine water can make birds sick. However, there is an easy fix.
Duck Off Non-harmful Pool Chemicals For Humans or Animals
At Viscount Pools West, we have a solution for you to protect your family and the birds. Duck Off is a additive that reduces the surface tension of your swimming pool to make it uncomfortable for the birds to swim. The beauty of this product is that the birds are not harmed by this. This pool chemical is also not harmful to humans.
All of our locations are open this summer to provide you with all of your pool or hot tub supplies that you need. Come visit us this summer at:
Flat Rock
28310 Telegraph Rd,
Flat Rock, MI 48134
Livonia
30441 Plymouth Road,
Livonia, MI 48150
Macomb
51020 Hayes,
Macomb, MI 48042
Monroe
2600 North Monroe Street,
Monroe, MI 48162
Waterford
4130 Dixie Highway,
Waterford, MI 48329
Duck Off is on sale until May 30th for only $41.98!
Posted In: pool chemicals, pool cleaning, Sales, Swimming Pools
Tags: Duck Off, ducks, humans, Non-harmful Pool Chemicals For Humans or Animals, pool chemicals, Viscount Pools West