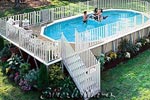 Finding the perfect pool for your Livonia, Michigan home can be tough. Also, you want to make sure that it is the perfect size for your family, looks good in your yard. In addition and most importantly that it is affordable. At Sunny's, we make sure that you have access to cheap pool supplies, high-quality cheap pools, high-quality pool covers, and low-cost maintenance items.
Our Livonia, Michigan location offers residents a wide variety of affordable above ground pools perfect for your family and your yard. With brands ranging from Premier Aluminum, Cornelius, Lomart Pools, as well as Aqua Sports pools, you are sure to find a high-quality pool to enjoy. Some of our favorites are:
Lomart Swimming Pools' Michigan style
Cornelius Nuance
Premier Aluminum Coliseum model
Aqua Sports
Affordable Livonia Pools Available
Just because these are our favorite pools, doesn't mean they have to be yours! All of our pools are top of the line pools priced for you to afford. After selecting the perfect pool for your Livonia, Michigan home, be sure to check out our full line of pool accessories, automatic pool cleaners, filters, and chemicals to help you maintain your pool and keep it crystal clear and fun for all of your family and friends in Livonia!
If Livonia is a little out of your way in Michigan, don't worry, we carry a massive selection of pools in all five of our Michigan locations! Located in Wayne County, Oakland County, or Monroe County, we are right in your backyard!
For more information on tips for purchasing your first pool, contact us today and we will be sure to answer any questions you may have. Finally, we look forward to taking you on a tour of your local Michigan showroom!