*Revision note 2017: Viscount West is now Sunny's Pools & More*
Pool Heaters keep your swimming pool at the temperature you and your guests demand well into the colder months of the year. A good heater will provide all the heat you need well into the colder months without spiking your utility bill. We offer only the highest quality heaters from industry-leading manufacturers.
Rheem P-M266
Copper Fin Tube heat exchanger, rust-free waterways
2″ water connections
digital control with self-diagnostics
Meets or Exceeds Federal Energy Standards
Natural or Propane Gas
Features
Microprocessor-Controlled Thermostat
The Rheem Digital gas heater comes with a microprocessor-based control center. This allows you to set your pool or spa temperature precisely at your preferred setting by simply pressing the up or down temperature control button. The digital display provides a constant readout of your pool or spa water temperature. Just set it, and forget it! Truly simple. If only your VCR were this easy to operate.
Self-Diagnostic
Troubleshooting a Rheem gas heater has never been easier. The Rheem Digital has on-board diagnostic controls that let the user and the service professional know what is going on with the heater at all times. In the unlikely event that a problem develops the digital display easily points out the problem and the probable cause. It's like having a service technician built into every heater!
Remote Compatible
The new Rheem Digital is compatible with most major pool control and remote systems on the market today. Any two- or three-wire remote can connect to the Rheem Digital and be integrated into the pool control system of your choice.
Stainless Steel Burners
Burner design is a critical component in any gas heater. The stainless steel burner system used in the Rheem Digital is inherently forgiving and extremely robust. The burner is self-adjusting to compensate for gas pressure fluctuations, allowing the heater to always burn clean and safe.
Smooth Light Off
The soft-opening gas valve ensures smooth turn-on; no "Hard Light" to worry about. Easily removable burner tray and pilot assembly make service and maintenance a simple task.
Pilot Ignition
The Rheem Digital use a spark-to-pilot ignition system. This is the most reliable and robust ignition system available- an industry proven standard for over 20 years.
Cool Running
The ceramic fiber combustion chamber keeps your heater running efficiently while ensuring the outside jacket stays cool. By using this space-age material, the heater won't retain residual heat after it is turned off, allowing it to be installed without the need for excessive clearances. This heater is also certified for installation on a combustible surface.
Wind-Resistant Design
Performance and reliability are enhanced by the "pagoda top," designed to keep the Rheem Digital operating even in windy conditions. No need for fans to combat drafting problems. This heater is engineered to draft naturally in outdoor installations with its exclusive low-profile design. It is so thoughtfully and carefully constructed it actually protects itself from the things that tend to stifle ordinary pool and spa heaters. It delivers uninterrupted heating performance regardless of falling leaves, wind, airborne debris, rain, downdrafts, updrafts, sleet, snow, etc.
PolyTuf Textured Powder Coating
The Rheem Digital has a polyester-coated, non-corrosive cabinet that is more durable than solventborne- and waterborne-coated metal cabinets. Every piece of sheet metal goes through a 7-stage wash system, making certain the powder paint has a perfect bond. Underneath the tough, yet beautiful finish you will find galvanized metal that offers superior rust prevention for years of durable service.
Condensation-Free Operation
Both water temperature and flow rate inside the heater are controlled to help eliminate condensation, sooting and scale build-up that can shorten the life of a heater. Rheem engineered the Unitherm Governor specifically for pool and spa heater applications, regulating low temperature incoming water to help reduce condensation.
Rust-Free Waterways
The Rheem Digital is equipped with polymer headers and an integral copper fin tube heat exchanger built with stainless steel tube sheets. This ensures rust-free performance, especially important when heating spas. Even the smallest details, such as the studs and nuts, are made out of stainless steel. The payoff? A heater that will last year after year and can easily be serviced if the need should ever arise.
Rheem 130 Model
One Size: 130,000 BTU/HR
Copper Fin Tube heat exchanger, rust-free waterways
2″ Water connections
Meets or Exceed Federal Energy Standard
Natural or Propane Gas

Aboveground pool owners can enjoy the same high performance, outstanding operating efficiency, and long-term reliability as inground pool owners with our aboveground pool heaters.
The MiniMax 100 heater is a compact, self-contained unit with an output of 100,000 BTUs, perfect for small aboveground pools of up to a 900-gallon capacity. Equipped with either a reliable direct-spark ignition or a standing pilot and PressliteTM millivolt internal ignition, MiniMax 100 is easy to install and maintain.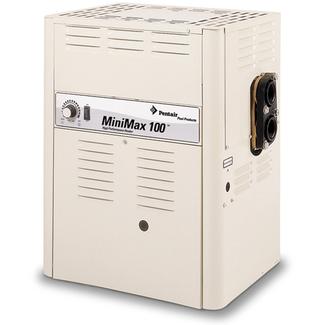 Mini Max 100
Features:
High thermal efficiency keeps operating costs low while directing more produced heat to your pool instead of into thin air.
Patented thermostatic bypass valve minimizes condensation-related calcium scaling and corrosion, preserving heat transfer efficiency.
Quiet, dependable operation from proven burner system.
Service-friendly design includes bronze header system for long life and union connection fittings for fast draining and easy winterization.
Ceramic tile insulation prevents wasteful heat loss, reducing cost to heat.
Flow valve senses water flow and assures water passes by heating element at right rate for efficient operation.
Built-in vent top for efficient combustion.
Attractive, low profile design with rounded corners and durable weather-proof powder-coated housing for lasting beauty.
The controls have been designed for very easy access and are user friendly
Quick Flange allow 1-1/2 in. FIP connect.

Heating your pool is a wise investment as it increases its value and extends your swimming season. So when you're ready to graduate to a higher degree of comfort and control, choose a Hayward heating solution.