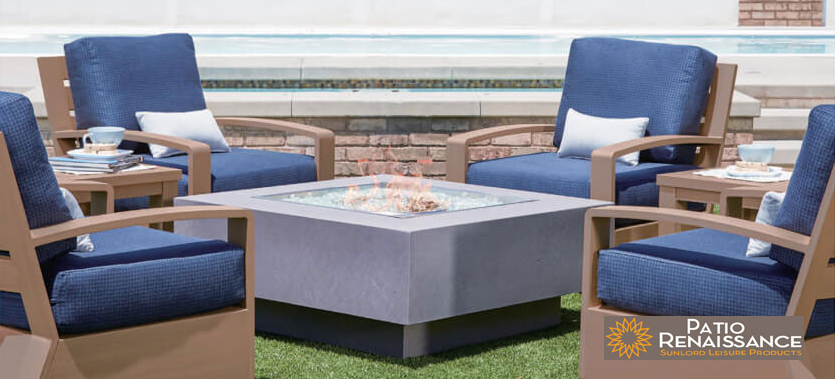 When it comes to entertaining guests during the cool fall and winter months, fire pits or fire tables make it so much more enjoyable. Depending on your needs, the experts at Sunny's Pools & More can you find the right one for your size yard. In addition, Sunny's Pools & More offers financing and great deals on patio furniture and fire pits. One of the most asked questions when it comes to buying one is what is the difference between the two?
The Difference Between Fire Pits and Fire Tables
Fire pits come in a variety of shapes and sizes, and the only real difference between them and a fire table is the width of their ledge. Fire tables will have enough room to eat a meal around and are tall enough to accommodate chairs.  While a firepit is shorter and only has space to hold small items and is not designed to eat around. The heat they produce is dependent on the size and output of the firepit that you buy.
Benefits Of Fire Tables or Firepits
One of the first benefits is the cozy atmosphere it creates. There is something about the nice warm glow of a fire that everyone can enjoy.  Of course, the best benefit is the warmth. Being able to enjoy the cool day longer because of your firepit makes the night that much more enjoyable.
Another benefit to consider is you can enjoy your firepit all year long. Want to sit outside and enjoy the newly fallen snow? You can with a warm fire. Entertaining and keeping people warm has never been easier. The versatility of them is another great aspect, moving them exactly where you need them is no problem. Just make sure your deck or patio can handle it.
Order your Firepit or Fire Table Today
Sunny's Pools & More is your source for all types of patio furniture and firepits, stop by our locations today!