Sunny's Pools & More sells Tour Edition, Pro-Am, Valley, Mercury Ultra, Saturn II, Invitational, and Titan Cloth from Championship Billiards. You can choose from these 29 Colors of cloth. *May Not Have All In Stock!* *Mostly Stock Invitational* Invitational is a 20oz Teflon Coated Cloth. Call the Waterford Location for more information!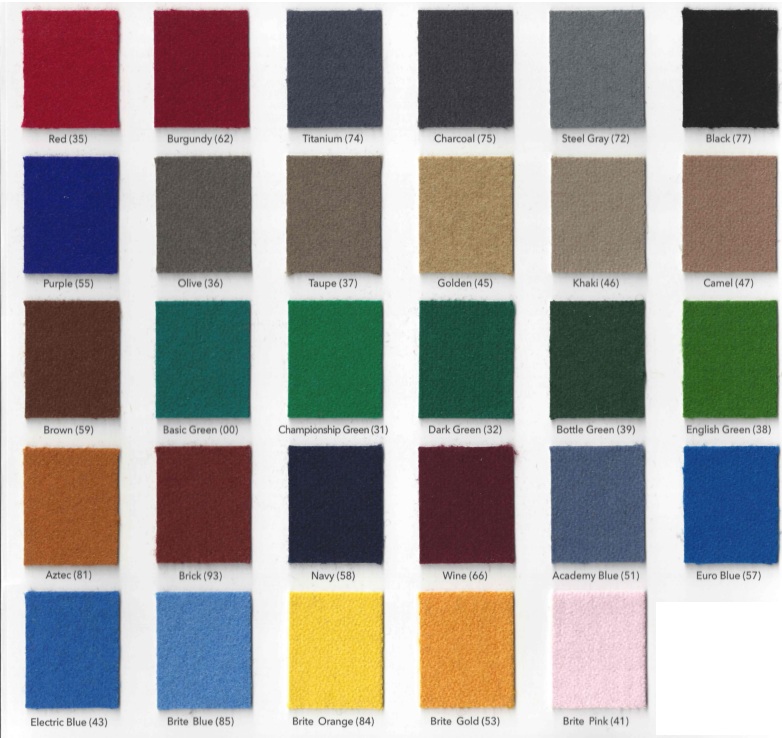 Felt Colors Option
Before you talk about felt colors, you need to know exactly what the felt is. The obvious answer is the felt is the material that covers the playing area on a pool table. Typically, the felt color is green. Do you know why green was used? Pool originated from a game that was originally played on grass. Before choosing which color or style make sure you know what type of material is used on your pool table.
The pool felt actually affects the spin and speed of the balls on your table. Depending on the fabric and quality of it, it will determine how fast the balls travel. In addition, keeping your felt clean and free of debris is a good way to maintain your tabletop. So when exactly is it a good time to replace your felt?
No felt will last forever. Eventually, through use, your pool tabletop will start to show wear and tear. Friction from the balls and will start to look like small white burns. Also, clumsy players may damage it or spilled food or beverages.
Time To Change Your Felt
As said earlier, tears, bumps, stains, and general wear and tear will take its toll on your pool table felt. The experts here at Sunny's Pools & More can help you determine which type of felt and what felt colors to choose for your table. In addition, we can recommend how much you will need to replace it depending on table size. Visit our Waterford Store today for more information on pool table felt options.