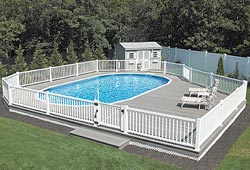 *Revision note 2017: Viscount West is now Sunny's Pools & More*
From filters to float toys, Viscount West provides a full line of pool products so that you can get everything you need for outdoor fun in one stop.
We sell top of the line swimming pools with names you can trust like;
Premier Aluminum (formerly known as Esther Williams) and Sharkline.
Cornelius Pools
Aquasport pools
Lomart
Our accessories and chemicals come from industry leaders such as:
Baquacil
Swimline
Waterway
Rheem
Poollife
Hayward
Natural Chemistry
SeaKlear
Premier Aluminum has manufactured pools that offer a combination of true value, strength, and beauty. These Aluminum pools are made with a titanium bearing aluminum alloy that provides exceptional rust-free durability which guarantees that year after year your pool will look like new.
Premier Aluminum (formerly known as Esther Williams) offers the most versatile styles of pools on the market. These extruded aluminum pools are a reflection of innovation, beauty, and strength.
The Monument pool by Wilbar Industries (Premier Aluminum) features an extruded aluminum wall that offers the rigidity, toughness, and stiffness of an inground pool. The patented Arrowhead Interlock System, featured in the Monument, greatly reinforces the strength of the pool and lends itself towards semi-inground installation applications. Semi-inground installation not only allows the homeowner to achieve the look of an inground pool at an above-ground price but also allows for more creative landscaping, both adding value to your property.
Semi-Inground Pool Features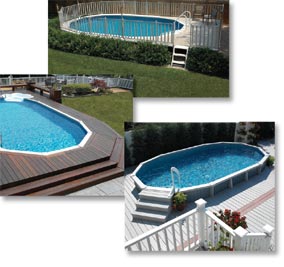 Features Include:
Rigid Wall – Similar to an inground pool
Extruded Aluminum Construction
Delta 3000 Support System™ (Oval only)
Deluxe Manor Vinyl Swimming Pool Liner
Slip-Resistant Coping Finish
Stainless Steel Fasteners
Limited Lifetime Warranty