*Revision note 2017: Viscount West is now Sunny's Pools & More*
A solar pool cover is a great way to capture the sun's heat and take full advantage of this natural resource to heat your swimming pool. The benefits of owning a solar cover are plentiful and serve a multitude of purposes. Solar covers are made of durable resin and have thousands of tiny air bubbles designed to capture and transmit solar heat into your pool. In tests, the clear round bubbles have been shown to be the most effective for providing passive solar heating in your pool. They will also keep your water cleaner by blocking out dirt and debris and a solar cover will help cut water evaporation by up to 95% thus reducing heat loss at night or on cloudy days. The thicker weight covers have proven to be the best in providing the maximum insulation value.
Our testing results confirm that thicker weight covers with circular bubbles design are the best at providing the maximum insulation value. The largest air space available is the circular bubble therefore creating more air space of insulation per square foot of material.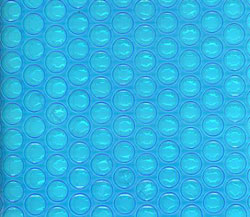 Temperature rises can be anywhere from 10 degrees to 15 degrees. When using a solar blanket on the water, the bubbles should be facing down. This creates a suction effect that holds the cover in place. Unless you have very strong winds, this should be sufficient to hold the cover on. Do not trim the cover until it has been on the water for 4 to 5 days. Since the cover has been rolled and folded, the plastic needs time to relax. Cutting too soon can result in a bad fit. When you need to remove the cover, have one person stand on each side of the pool. Roll the cover back, lift off the pool and store out of the sun's direct rays.
Keeping in mind removal of a solar cover – we suggest 8 to 13 ml. covers for easy on easy off. Please Contact Us if you have any questions or call us to ask about pool covers at one of our five locations in Michigan.
LIQUID SOLAR BLANKET
Reduces 95% of your evaporation , which is half your heat loss.
Most aboveground pools one bottle per month.
Looking for a cover saver pump? Need to remove standing water from your pool or hot tub cover? Click Here for more information.