At Sunny's Pools & More, we carry an extensive line up of pool covers to choose from. If you are looking for a solar cover for the summer to keep your pool water warm we have it. In addition, we have winter covers as well to protect your pool all winter long. Visit one of our great locations today for more options on pool covers.
Economy Pool Covers
Protect your above-ground pool from inclement weather with this economically-priced winter cover. Made with a heavy-duty polyethylene design tightly woven into a 7×7-filament scrim, this cover includes rust-resistant aluminum grommets and double-stitched hems to increase durability and reduce damage caused from wind whip. This brown cover is made with UV-resistant fabric to prevent sun damage and has a black underside to stifle algae growth. It comes with a winch and braided steel cable with a vinyl coating to ensure the cover can be tightly secured, protecting your pool water all winter long. This affordable cover fits above-ground pools and Inground Pools
Winter Pool Cover an economical option for round above-ground pools
Economy Pool Cover includes 3-foot overlap for added protection (4 Foot Inground)
Browntop infused with UV-inhibitors to resist damage and fading
Black underside blocks sunlight to prevent algae growth in pool water
Made of 7×7 polyethylene scrim
Winter cover comes with vinyl-coated braided steel cable and winch
Cover cable runs through stamped, rust-proof aluminum grommets that keep it taut on the pool's surface
1-year limited warranty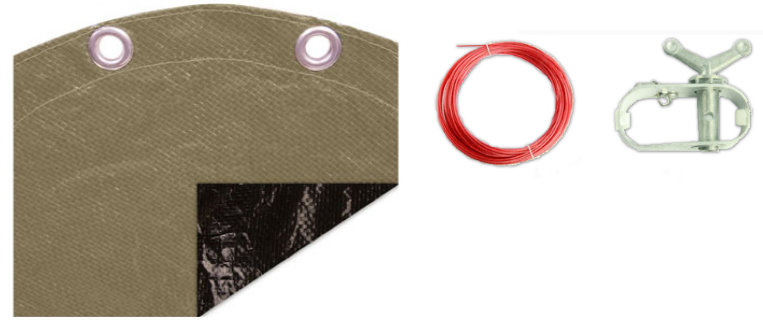 8-Year Quartz Pool Cover
The Quartz solid above ground pool covers feature fewer seams than other covers, which means less potential for separation to occur. This above-ground cover is also triple laminated and made with an ultra-tight inner scrim, so you can rest assured that you have a product with the maximum level of durability. The weather-resistant coating will prevent UV damage and the dark underside color prohibits the growth of algae. You can stop all types of debris from entering your pool, as well as leaking water. When it's time to open it up in the spring you'll discover your above ground pool has been completely protected from even the worst of winter weather.
Quartz Pool Cover includes extra-large 4Ft overlap for added protection (5 Foot Inground)
Quartz Cover has an 8×8 scrim Polypropylene material
Heat-sealed seams prevent water leaks and separation due to heavy loads
Quartz Above Ground Pool Cover is blue with a black ultraviolet inhibited underside to prevent algae blooms
Includes a vinyl-coated cable and winch, ensuring secure installation
Prevents damage to pool walls from even the most challenging debris
Solid above ground pool cover designed for easy installation and removal
1 year full and a 7-year prorated warranty
15-Year Silver Pro Pool Cover
Don't let a harsh winter or outside threats damage the integrity of your above ground pool. Take charge of your pool's maintenance all winter long with the professional strength Silver Pro Cover. If you're searching for an extremely durable above ground winter pool cover, the Silver Pro Winter Cover is an ideal option. You can enjoy ease-of-use and peace of mind throughout the winter that your pool is protected from snow and water seepage as well as other cold-weather hazards that can cause damage. The Silver Pro winter cover features a unique additional silver layer, which deflects heat to protect against algae growth and melt snow so it can be pumped off more easily. The large 4-foot overlap creates a snug, secure fit.
Silver Pro Cover has a 10×10 scrim Polyethylene material
Silver Pro Pool Cover includes extra-large 4Ft overlap for added protection (5 Foot Inground)
Solid above ground pool cover designed for easy installation and removal
The silver lining of the Silver Pro Winter Above Ground Pool Cover prevents algae growth and melts snow more quickly
The weather-resistant top layer protects against UV rays and freezing temperatures
Above ground pool cover includes cable and winch
Lightweight construction simplifies installation and spring removal
2 years 15-years Pro-Rated Warranty
Super Hemi Pool Cover
Tired of flimsy, delicate winter pool covers that rip and tear and leave your pool with green and brown muck? Our round or oval Super Hemi covers for above ground pools are extra thick and super durable to brave the harshest winters. With 14×14 scrim count, double heat-sealed seams, black underside to prevent algae growth, UV coating for ultimate sun protection, this pool cover will shield your pool from the harsh winter. Cheap quality swimming pool covers for above ground pools just can't hack it.
Also, knockoff above ground pool covers are merely glorified tarps. With our extra tight scrim count, dirty water won't be getting in and your pool water won't be getting out -leaving water levels stable and your pool water crystal clear. Poorly made grommets decrease the integrity of your swimming pool covers for above ground pools and make your cover more prone to tears! Our grommets were reinforced so you can properly wrap your pool, increasing the strength of your pool cover so it can hold up to heavy winds without worry.
 Super Hemi Cover features a 14×14 scrim count with our extra tight scrim count, dirty water won't be getting in and your pool water won't be getting out
Open to a crystal-clear pool in the spring
Super Hemi Pool Cover includes extra-large 4Ft overlap for added protection
Double heated seams for maximum durability and bound edges
Reinforced grommets and seams so you can properly wrap your pool, increasing the overall strength of your pool cover
2 year full, 18-year pro-rated warranty
---

A solar pool cover is a great way to capture the sun's heat and take full advantage of this natural resource to heat your swimming pool. The benefits of owning a solar cover are plentiful and serve a multitude of purposes. Solar covers are made of durable resin and have thousands of tiny air bubbles designed to capture and transmit solar heat into your pool. In tests, the clear round bubbles have been shown to be the most effective for providing passive solar heating in your pool. They will also keep your water cleaner by blocking out dirt and debris and a solar cover will help cut water evaporation by up to 95% thus reducing heat loss at night or on cloudy days. The thicker weight covers have proven to be the best in providing the maximum insulation value.
Our testing results confirm that thicker weight covers with circular bubbles design are the best at providing the maximum insulation value. The largest air space available in the circular bubble, therefore, creating more air space of insulation per square foot of material.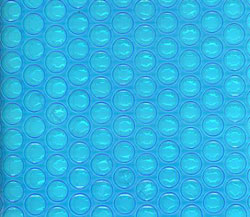 Temperature rises can be anywhere from 10 degrees to 15 degrees. When using a solar blanket on the water, the bubbles should be facing down. This creates a suction effect that holds the cover in place. Unless you have very strong winds, this should be sufficient to hold the cover on. Do not trim the cover until it has been on the water for 4 to 5 days. Since the cover has been rolled and folded, the plastic needs time to relax. Cutting too soon can result in a bad fit. When you need to remove the cover, have one person stand on each side of the pool. Roll the cover back, lift off the pool and store out of the sun's direct rays.
Keeping in mind the removal of a solar cover – we suggest 8 to 13 ml. covers for easy on easy off. Please Contact Us if you have any questions or call us to ask about pool covers at one of our four locations in Michigan.
LIQUID SOLAR BLANKET
Reduces 95% of your evaporation, which is half your heat loss. Most aboveground pools one bottle per month.
Looking for a cover saver pump? Need to remove standing water from your pool or hot tub cover? Click Here for more information.