We provide quality top-of-the-line hot tub & spa accessories to go along with your great new spa! Whether it be new stairs, lifters or a new safety rail, we have the accessories for you. Come into one of our five local pool and hot tub stores and we will provide you with even more information on spa accessories like; hardcovers, chemicals, cleaners, steps and more.

King Technology has a spa sanitizing product that's right for you. With FROG® and Sani King product lines to choose from, we're sure to have a water care solution to fit your needs.
SPA FROG Mineral Sanitizers are the only mineral systems for spas that work with low levels of bromine or chlorine for the highest water quality. There are three easy SPA FROG options to meet your specific spa water treatment needs.
The SPA FROG IN-LINE SYSTEM is built right into the spa and uses the same mineral and bromine cartridges as the SPA FROG Floating System. For easy top loading of replacement cartridges, simply open the cap, pull up the holder and snap them in.
Nature2 Spa by Zodiac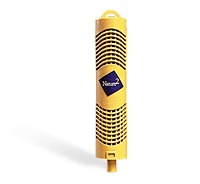 Nature2 Spa uses patented mineral-bed technology to destroy bacteria. Its revolutionary process significantly improves the look, feel and smell of your spa water. It does this by dramatically reducing chlorine and bromine requirements. If used with MPS, the most recommended spa oxidant, Nature2 Spa becomes a complete spa sanitizing system – the only non-chlorine spa sanitizing option available. And managing your spa is easier than ever; Nature2 Spa slips into your spa filter and lasts up to four months.
DuraSteps II by Leisure Concepts
Being the best entry-level step in the industry, the DuraStep II is the next generation DuraStep! The new DuraStep II is a completely redesigned step that is more attractive and stylish than its predecessor. The DuraStep is designed to hit an entry level price point, therefore, you don't have to spend a lot to make entering your hot tub safely.
Spa Cover Lifters by Leisure Concepts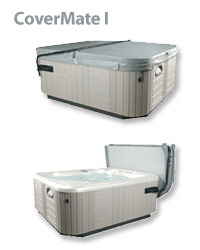 As the world's most popular cover lift, the CoverMate I is easy to install, even easier to use, and features a sleek, elegant look to complement any spa.
Quality and Specs
Black Powdercoated, rust free construction
Equipped with non-corrosive composite mounting brackets
fast and easy to install
Requires just ten inches clearance behind spa
works on virtually any spa up to 8 feet in width
Available with extended pivot arms and extended brackets for larger spas
---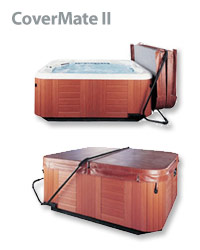 This model allows the cover to rest lower against the spa for a less obstructed view. Depending on your choice of mounting system, the patented Covermate II can be screwed mounted low on the spa or simply slid underneath for weaker-skirted spa.
Quality and Specs
Black powdercoated, rust free construction
Equipped with non-corrosive composite mounting brackets
Understyle mount uses two aluminum brackets and 7 inch base plate that simply slide under the spa
Simple 15 minute installation
Requires just 18 inches clearance behind spa
Works on virtually any spa up to 8 feet in width
---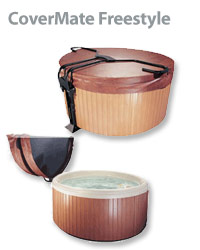 The cover solution for round and uniquely shaped spas. Thanks to our exclusive adjustable mounting base that slides under the spa, Covermate Freestyle delivers when other lifts can't.
Quality and Specs
Designed to work on round and uniquely shaped spas
Adjustable mounting base simply slides under the spa
Installs in 20 minutes
Requires approximately 20 inches clearance behind spa
Works on virtually any spa up to 43 inches tall and 95 inches wide
SAFE-T Rail by Leisure Concepts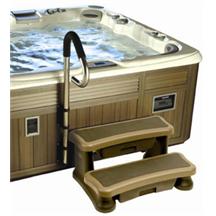 The combination of water and slick surfaces makes every spa a potential hazard. That's why Leisure Concept invented Safe-T Rail.
Quality and Specs
Ultra-Sturdy, rust free construction
Slip free, Black foam grip
Two composite mounting brackets with eight screws each
5 minute installation
mount on virtually any above ground spa
Available in textured black aluminum
Other Accessories by Leisure Concepts
Spacaddy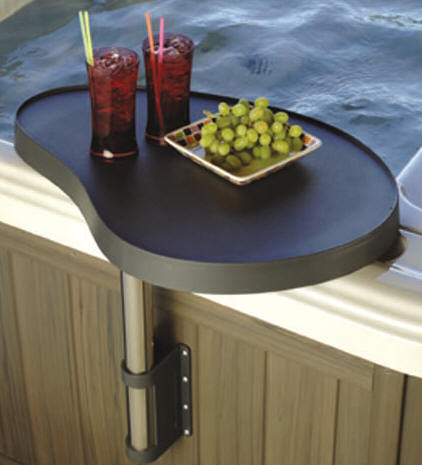 The Spa Caddy Side Mounted Spa and Hot Tub Tray by Leisure Concepts provide spa owners with the perfect way to keep drinks, snacks and other items conveniently close yet out of the way. It mounts to the side of your spa on a stainless steel post which is super simple to install. The Spa Caddy is made of composite material which ensures it is 100 percent corrosion resistant.
Generous dimensions provide room for a variety of uses and conveniently pivots out of the way when not in use.
---
TowelBar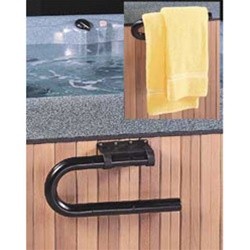 The Spa and Hot Tub Towel Bar by Leisure Concepts is the perfect way to keep towels and robes close by while keeping the dry.
This towel bar folds upright to hold towels and keep them within reach, when not in use it folds down against the spa and out of the way.
---
SmartBar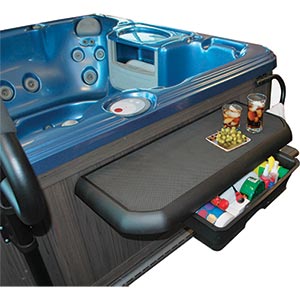 Convenience and storage all-in-one right next to your spa! Comes standard with our SmartDrawer 39″ long and 14″ wide Comes with our Slip Resistant Treads, keeping your valuables from slipping away!
Designed as a Removable or Permanent Bar 10 Minute Installation Mounts on Virtually Any Spa
---
Spa Umbrella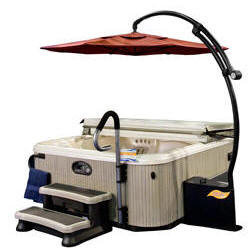 Cantilever Umbrella base slips right under your spa. No bolting necessary.
Canopy is heavy duty, Sunbrella® fade & weather resistant fabric.
Full 102 inches (8.5 ft) tall.
Tilts 75º & Swivels 360º.
Crank & tilt mechanism provides trouble free operation
Umbrella assembly is easily removed from the base for storage when not in use.