Brand New Patio Furniture Available at Sunny's Pools & More Macomb!
---
Patio Furniture Brands
---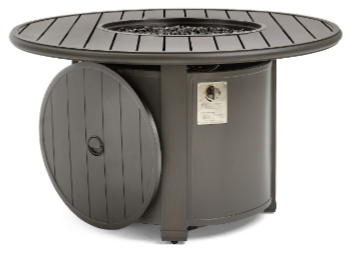 Firepit Or Fire Table
A cool, crisp fall day in Michigan can be made even better with a fireplace or fire table on your patio. These beautiful fire tables are a great way to enjoy the fall weather while staying warm on your patio. If you have a beautiful new deck that you want to use, then adding a fire table to it will add a layer of elegance to it.
The beautiful colors of Autumn can be enjoyed while staying warm. The kids will love making smores or roasting marshmallows. Also, a nice cup of hot cocoa or a pumpkin spice latte just feels right. At Sunny's Pools & More, we can help you find the perfect fire table or firepit that best suits your needs.  In addition, we can help you find the one that fits best with your patio furniture.
Patio Furniture Display
Now available and on display at our Macomb store, all the major brands of patio furniture! When it comes to entertaining your guests alongside your new hot tub or swimming pool, you should have some great outdoor furniture. Also, nothing makes an outdoor family gathering or party more enjoyable than outdoor furniture.
We offer full lines of chairs, tables, and umbrellas. In addition, we carry covers, cushions, and much more. With major brands such as Agio, Gensun, Telescope, Patio Reniassance, Winston, and Treasure Garden we have something for everyone.
---
Patio Renaissance

Patio Renaissance offers an extensive lineup of patio furniture sets as well as fire pits. A new firepit with your patio set can really provide a new aesthetic that was not there before.
---
Agio Patio Furniture

Agio Furniture has very modern and trendy designs to set your yard apart from the rest of the neighbors. In addition to dining sets, Agio offers outdoor bar sets and many other entertainment options.
---
Gensun Outdoor Furniture

One of the most awarded outdoor furniture manufacturers, Gensun has been bringing families together outdoors for years. Also, Gensun has 17 different furniture collections to choose from. If you own a Gensun set, you really stand out from the crowd.
---
Telescope Casual Furniture

Telescope Casual Furniture is the ultimate in outdoor relaxation. In addition, Telescope's quality is second to none, they have been designing and producing quality patio furniture for well over 100 years. Their extensive experience and products set them apart from other manufacturers.
---
Winston

Winston offers one of the largest selections of outdoor furniture in America. Furthermore, they offer a huge selection of fabrics and finishes for all their furniture. From Trallis Moss to Oyster Pearl, they really have a wide variety.
---
Treasure Garden Umbrellas

Have you ever wanted an elegant way to keep the sun out of your eyes? At Treasure Garden Umbrellas they offer some of the most beautiful umbrellas available today. Also, they offer their umbrellas in a large selection of colors and sizes, from a small two-person umbrellas to a large area umbrella for the whole family, Treasure Garden has it all.
At Sunny's Pools & More, we can help you determine which size umbrella best fits your patio furniture set. Also, we can help determine which base best works with your umbrella. Finally, no matter if you are looking for just a chair or two or a whole patio set, visit our Macomb location today and they can help you find the patio furniture that best fits your needs!