We currently offer pool tables from C.L Bailey.
If you need service for your current pool table please click here.
 Built To Last!
Bolted-Together Construction:  C.L Bailey has designed their frame with one goal in mind-to have the strongest, most rigid slate support structure in the industry. At the heart of the frame are metal to metal bolted together construction techniques. The one-piece bracket rigidly secures the cabinet and leg assembly with bolts. The engineered lumber support beams bolt directly to the cabinet and are double interlocked for additional strength. These construction techniques, coupled with accurate, computerized manufacturing equipment, provide an outstanding slate support structure, resulting in superior play and unsurpassed longevity.
Diamond-Honed Slate: Slate has long been the preferred playing surface for pool tables. They go one step beyond most manufacturers, and demand only quarry-mined ISO certified, diamond-honed slate, scientifically proven to be the strongest and stiffest slate available. The slate is diamond-honed to within ten thousand's of one inch over the entire length of the playing surface. C.L Bailey also specifies engineered lumber for the substrate for framed slate. This wood backing glued directly to the slate, and allows the felt to be stapled directly to the wood.
Premium Hardwoods: When selecting hardwood lumber, they specify Northern hardwoods (such as red oak and red leaf maple) for their exceptional grain characteristics, color and moisture consistency, machinability, finishing characteristics and dimensional stability.
Top Rail Assembly: C.L Bailey builds their top rails to provide exceptional playability. C.L Bailey's
K-66 profile gum rubber cushions are produced using a proprietary formula of pure gum rubber and stabilizer. These cushions also have canvas vulcanized into the top and back, crucial for consistent and accurate rebound.
Floated Nut Plates: Playability is also enhanced through the use of massive steel floating nut plates. These steel plates allow the top rails to be tightened to the slate with greater torque than conventional t-nut construction.
---
Dutchess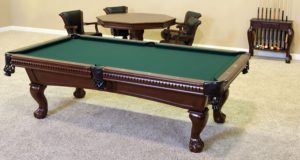 Available in 7′, 8′ and 9′
Finishes available: Traditional Mahogany, Warm Chestnut, Honey Maple, and Classic Oak.
Legs: Ball & Claw
Pocket Options: Shield or Fringe
---
Duke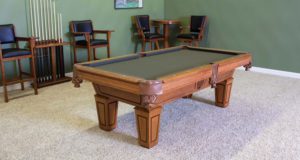 Available in 7′ and 8′
Finishes available: Traditional Mahogany, Warm Chestnut, and Classic Oak.
Legs: Panel
Pocket Options: Shield or Fringe
---
Lorient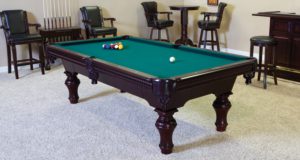 Available in 8′
Finishes available: Traditional Mahogany and Warm Chestnut
Legs: Trumpet
Pocket Options: Shield or Fringe
---
Alicante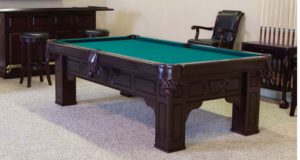 Available in 8′
Finishes available: Traditional Mahogany and Warm Chestnut
Legs: Pedestal
Pocket Options: Shield or Fringe
---
 Sorbonne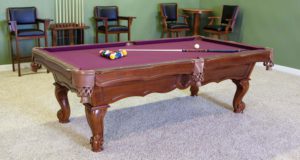 Available in 8′
Finishes available: Traditional Mahogany and Warm Chestnut.
Legs: Ram's Head
Pocket Options: Shield or Fringe
---
Elayna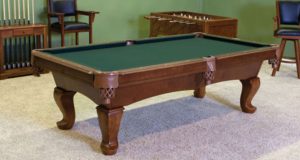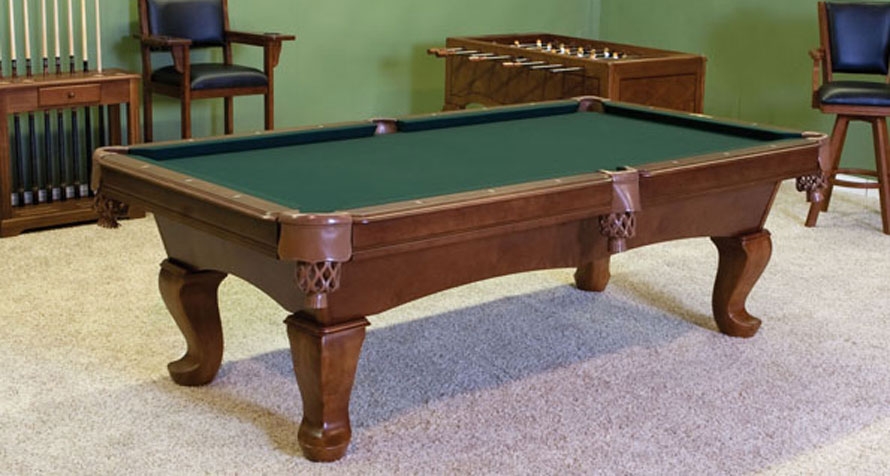 Available in 7′ and 8′
Finishes available: Traditional Mahogany and Warm Chestnut
Legs: Queen Anne
Pocket Options: Shield or Fringe
---
Addison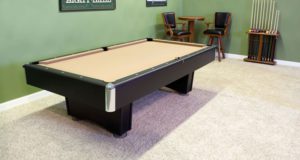 Available in 7′ and 8′
Finishes available: Black
Legs: Leg Levelers
Pocket Options: Commercial-Grade Web Pockets
---
Adrian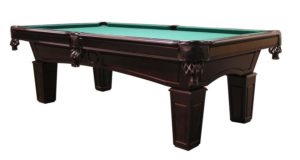 Available in 8′
Finishes available: Traditional Mahogany, Warm Chestnut, and Classic Oak.
Legs: Panel
Pocket Options: Shield or Fringe
---
Alessa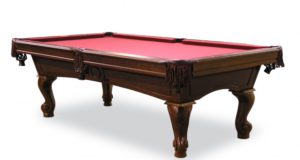 Available in 8′
Finishes available: Traditional Mahogany and Warm Chestnut
Legs: Ram's Head
Pocket Options: Shield or Fringe
---
Ballwin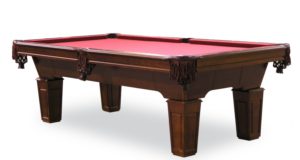 Available in 8′
Finishes available: Traditional Mahogany and Warm Chestnut
Legs: Panel
Pocket Options: Shield or Fringe
---
 Norwich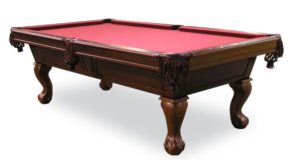 Available in 8′
Finishes available: Traditional Mahogany and Warm Chestnut
Legs: Ball & Claw
Pocket Options: Shield or Fringe
---
 Whitman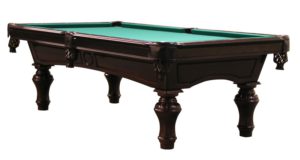 Available in 8′
Finishes available: Traditional Mahogany and Warm Chestnut
Legs: Trumpet
Pocket Options: Shield or Fringe
---
Bella Marie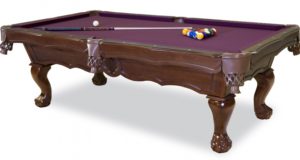 Available in 8′
Finishes available: Traditional Mahogany and Warm Chestnut
Legs: Ball & Claw
Pocket Options: Shield or Fringe
---
Pockets