Swimming Pools and Pool Chemicals Available!

At Sunny's Pools & More of Flat Rock, we carry a variety of swimming pools to choose from. We have above ground pools for you and your whole family to enjoy. With great financing options and terrific sale prices, it has never been easier to own a pool. Our experts will help you decide on the pool that is right for you. In addition, we can help you find all the accessories such as ladders, heaters, and covers that you need.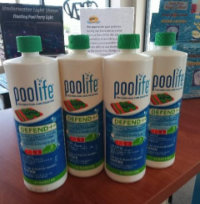 Of course, to maintain your pool, you will need all the right chemicals. NOt sure what type to buy? Visit Sunny's Flat Rock and we can help you find the right chemicals to help balance your pool water. Also, we offer free water testing so you can rest assured you will know the exact health of your pool water.
We carry all the top brands such as Baquacil, Pool Marvel, and more. Our Poolife chemical selection can help balance your water all season long. From chlorine to balancers we have it all!
Dimension One Spas At Sunny's Flat Rock
One of the premier spas and hot tubs on the market today is Dimension One. When you purchase a Dimension One hot tub, you can rest assured you are getting the best for your money. With decades of experience in building spas, Dimension One has become the industry leader in spas. The options for these hot tubs are endless.
You can choose from a variety of features and options available such as a Smarthub Control, Flex Therapy Pillow, Dynamic Massage Sequencer, and the Liquid FX. Of course, these are just some of the many options available. Visit Sunny's Pools & More today, we have great financing options for your hot tub purchase. In addition, we can help you decide what extra items you may need to enjoy your hot tubs such as covers, steps, and chemicals.

Featured
---