*Revision note 2017: Viscount West is now Sunny's Pools & More*
Are you looking to buy a semi-inground pool in the Macomb or Waterford MI areas this spring or summer? Generally more stylish looking than above ground pools and less expensive than in-ground pools, semi inground pools built in Macomb or Waterford, Michigan are a great way to meet in the middle when you decide to buy a family pool in Michigan.
Did you know that new semi-inground pools in Waterford or Macomb, MI are fairly easy to install? Inground pools typically require licensing and city approval before installation. Also, making semi inground pools in Michigan a less-stressful alternative since they do not. There's also a slim chance of knocking cables or electrical lines in your backyard. Be careful when you install a semi-inground pool because they don't require too much groundwork during installation.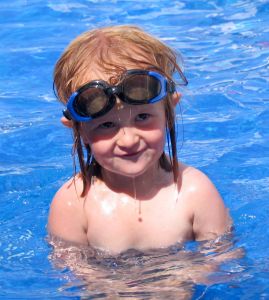 Semi-inground installation not only aids the homeowner in achieving the look of an inground pool at a much lower price. But it offers the opportunity to be more creative when landscaping. This can add value to your Waterford or Macomb, MI property.
When it comes to cleaning your semi-inground pool in Macomb or Waterford Michigan, their natural rise off of ground as opposed to an inground pool gives them the edge in the cleaning department as well. Semi-inground pools are less susceptible to insect entrance. Also, their walls are usually made from composite material, meaning the lining of the pool tends to remain sanitary.
Semi-Inground Pools in Macomb
High-quality semi-inground pools from Sunny's Pools & More are the way to go if you are looking to reap all of these benefits. We sell top of the line swimming pool brands that you can trust like Cornelius Pools, Aquasport Pools, and Premier Aluminum pools.
Premier Aluminum manufactures pools that offer an appealing combination of beauty, strength, and value. Waterford or Macomb, MI residents looking to buy a Premier Aluminum semi inground pool from Viscount West will get to own a pool made of a titanium bearing aluminum alloy, which provides exceptional rust-free durability. Have you ever had or seen a semi-inground pool in MI that gets rusty and looks old after only a few years? The titanium bearing aluminum alloy ensures that your pool will look like new, even after years of use.
This is just one of the many brands of semi-inground pools found at Viscount West. You already know that we carry all the automatic cleaners or filter systems in Michigan that you need, as well chemicals from industry-leading brands, like Baquacil, Waterway, Hayward, and more. So when you ask yourself "who sells in-ground swimming pools in Macomb or Waterford, MI?" know that the answer is Sunny's Pools & More. Contact us today and let's get started!
You can also give us a call at either our Macomb or Waterford, Michigan locations:
Macomb – 586-677-7665
Waterford – 248-674-9689