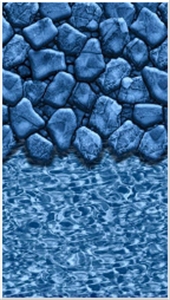 *Revision note 2017: Viscount West is now Sunny's Pools & More*
Esther Williams Beaded Pool Liners are used for Esther William pools that take a special which is different form the standard bead on most replacement swimming pool liners. For your Esther Williams beaded pool liners, Viscount West carries a wide variety to choose from. Viscount Pools West has years of experience installing and selling pool liners and we can answer any question you have about pool liners, for any brand not just Esther Williams.
A new liner can give a brand new look to your pool and keep your pool looking good for years to come. A great benefit of a new Esther Williams Beaded Pool Liner is the wide variety of designs available to fit the look of your pool.
Steps to Replacing a Pool Liner
The first step is to measure. Before ever buying or replacing the liner you need to measure your pool. You will need to know the diameter and wall height of the pool. Make sure to measure the wall height from the outside of the pool.
The second step is inspecting your pool for a above ground pool liner. Check you pool for rust or rot around the wall of pool. Also check the screws if they are rusted or still as good. Make sure to also check the skimmer and return area, and don't forget any bad gaskets.
The third step is the research step. Your first and only stop should be at Viscount West. At Viscount West, we can provide you with all the answers about your next liner. We can also provide you with expert analysis. Give us a call today at 586-677-7665.
The fourth step is to make sure what type of liner you need. Most likely you will need a beaded liner, and Viscount West can help you find the right liner for your pool.
The fifth step is to hire the right professional to install your liner if you do not feel comfortable to do it. Give Viscount West a call today at 586-677-7665 or use our easy form, and we will help you find the right liner for your pool!