Thermal Wave Heaters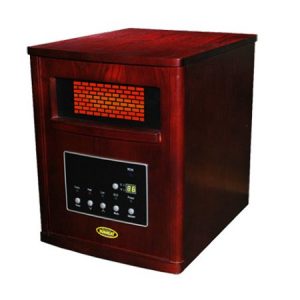 The Thermal Wave 1500 watt electric portable infrared heater by SUNHEAT is designed for those looking for a quality heater at an affordable price. The TW1500 model is housed in an elegant all wood cabinet featuring a rich and modern espresso stain. Thermal Wave infrared heaters provide comfortable and economical heat for any area of your home.
This practical and stylish heater has two heat settings. Also comes with remote control and a digital thermostat with LED display and temperature control. Designed to be a safe and supplemental heat source. This will effectively heat up to 1,000 sq. ft. with soft infrared heat. Thermal Wave heaters emit no harmful emissions, cannot start a fire and are safe around children and pets. It comes equipped with heavy-duty rubber casters allowing you to easily roll it from room to room. This reliable heater carries a three (3) year parts and labor warranty.
The six 250 watt quartz infrared heat tubes produce a safe, soft, comfortable heat. The output of room temperature plus 120˚F (room temp 72˚ + 120˚ heat differential = 192˚ heat output on HI setting)
All wood cabinet with rich and modern espresso stain
Thermostatically controlled to conserve energy and maintain your comfort setting; set it and forget it
Whisper quite a high-velocity fan and lifetime washable filter
Heats up to 1,000 sq. ft., perfect for basements, living rooms, bedrooms; any space in your home or office, allowing you to turn down the furnace and save money
6 foot long 14 AWG grounded power cord; no installation required plugs into any standard 110v outlet
Cannot start a fire, automatic shut off, all wood cabinet stays cool to the touch, generator compatible, ETL listed for the USA and Canada TWFP1500
Sunheat Thermal Wave Heaters
These are irregular units that have minor scratches, slight stain, and wood grain variations. But still, come with our 3-year warranty! In addition, the Elite Heat EH-1500 Watt electric portable infrared heater with Made in USA cabinetry provides safe, soft, comfortable warmth for any area of your home. The Elite Heat model EH-1500 is a supplemental heating system. Also, it is designed to heat up to 1,000 sq. ft. with no harmful emissions. Three cured copper cylinders offer unsurpassed storage capacity for the infrared heat produced by six 250 Watt commercial grade quartz heat tubes.
These core elements, combined with a high-velocity fan and a lifetime washable filter, produce a heat output of room temperature plus 120˚F. This highly efficient heat output allows the infrared heat to be absorbed by the moisture in the air as it's pulled into the heating chamber. The warm moist air then flows out of the heater and transfers soft infrared warmth to the people and objects in the room.
The result is comfortable radiant heating, floor to ceiling and wall to wall. When the desired temperature setting has been reached, the Elite Heat will cycle off and on as needed to maintain the room temperature. Each cycle produces 7 to 10 minutes of free heat that comes from the heat stored in the copper cylinders. This unique heating process is essential to saving energy and money. This reliable infrared heater comes with a 3 years parts and labor warranty, cannot start a fire, is safe to operate anywhere, all the time, even around children and pets, but best of all it will slash your heating costs. Black Finish
• Our slightly blemished units are great for workshops, tack rooms & basements
Finally, for more information about the dealer visit them at www.sunheat.com