At Sunny's Pools & More, we carry a variety of spa chemicals. We now carry the very popular, Hot Tub Serum line of products. Their eco-friendly products will keep your hot tub water looking great all year around.
Hot Tub Serum Total Cleanse Hot Tub and Spa Cleaner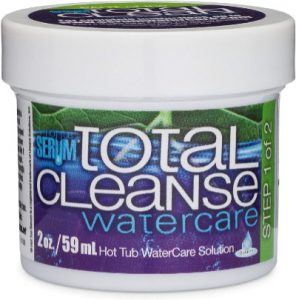 The Total Cleanse Watercare is designed to clean out your hot tub pipes and plumbing systems. This is a natural cleaner that helps remove contaminants inside your pipes as well as oils and surface grit. This cleaner can be used in conjunction with your current chemical program.
Some great benefits are:
Easy to use
Keeps your water balanced
Your spa water will stay clean and clear
Will improve hot tub performance
Deep cleans
Eco-Friendly
Will save you money
---
Hot Tub Serum Total Maintenance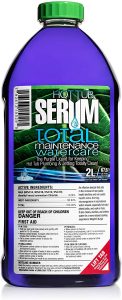 This powerful cleaner just needs one weekly does to keep your water clean and clear. In addition, this will help keep your plumbing clean for up to 6 months. You can cut down on costs for maintenance by using this product.
The first step is to us the Total Cleanse, then for the second step use the Total Maintenance.  Also, by using the Total Maintenance you will minimize biomatter build-up in your hot tub. One capful of this spa chemical will treat 100 gallons of water for 7 days. This product will help destroy bacteria that other sanitizers can't.
Features:
Eco-Friendly
Last 4-6 months
Clear beautiful water
Saves you money
Available in 16 oz or 64 oz.
---
Hot Tub Serum Cleaning Kit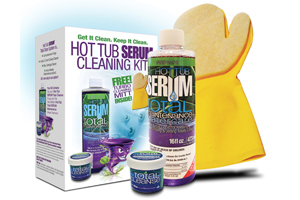 The Hot Tub Serum cleaning kit is the perfect kit for the do-it-yourselfer. This is an all in one easy to use system.  Use the cleanse first to completely clean out the pipes and plumbing. Then maintain the water by using the Total Maintenance once every 7 days. These products are eco-friendly and will provide you with clean, clear water.
Kit Includes:
Hot Tub Serum Total Cleanse
Bottle of Hot Tub Serum Maintenance
Total Clean Sponge
---
Spa Purge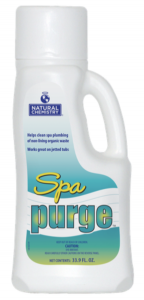 Cleans where you can't!  Spa Purge helps clean non-living organic waste from inside the spa's plumbing using a concentrated formula with SMARTZyme technology.  Oils, lotions, cosmetics, hair products, and other non-living organics build up in spa water to produce cloudiness, unpleasant odors, and foaming. These contaminants collect and build up in circulation systems and filters.  Spa Purge helps attack and remove these contaminants to make spa water maintenance easier! 
Efficiency Tip
Get at the root of spa maintenance issues.
The buildup of non-living organic waste contamination is at the root of spa maintenance problems.  By purging the spa plumbing, service techs can improve water clarity and reduce the amount of time and effort needed to maintain spas and hot tubs.


---
X10 Water Filters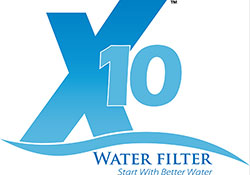 Sunny's Pools & More recommends the X-10 Water Filter for your spa. For less than 1 cent per gallon, The X10 Water Filter is good for up to 8,000 gallons and is great for filtering water*. The X10 filter is great for pools or spas.
Some of the many benefits of the X10 Water Filter:
Highest grade acid washed coconut shell carbon is utilized. Many competing filters use less expensive bituminous (coal-based) carbon.
Up to twice as much bacteriostatic filter media (KDF®) as some other brands for longevity and maximum efficiency and performance.
5-micron pre and post integrated sediment pads to minimize sediment and turbidity. Also, some brands use as high as 100-micron pads. (The lower the micron, the finer particle size it will stop)
High titanium dioxide (whitening agent with strengthening characteristics) used in filter housing for stronger, more durable construction (Less apt to be damaged by dropping or by other factors), in addition to excellent UV protection.
Testing to industry standards which many other filters do not have.
At Sunny's Pools & More, we can recommend the proper spa chemicals for your hot tub. Finally, if you are interested in Hot Tub Serum or the X10 Water filter, contact your local Sunny's locations today or give us a call!