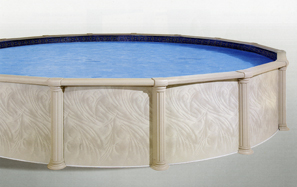 Close Your Pool With Easy Tips From Sunny's Pools & More
As a pool owner you always want to close your pool properly to prevent damage to your swimming pool. By closing the pool properly, it can save you time and money in the long run. The winters in Michigan can be rather brutal at times and following these pool closing steps can help prolong the life of your pool:
Water chemistry should be balanced before any other step. Make sure that your pH, Calcium Hardness and Total Alkalinity are all balanced. By doing this you can prevent etching and staining to your pool.
Do not use floaters that have a strong oxidizer, such as chlorine or bromine, because if the floater stick against the wall it will stain or bleach your wall.
 Lower the water levels of your swimming pool, water freezes and will expand, if not lowered that can damage your pool.
Drain all water from hoses and filtering equipment, if water is in it and freezes could damage the equipment.
Finally you should always cover your pool every winter, to prevent debris and sunlight from the water. By blocking the sunlight it will prevent most algae.
By following some basic steps each year, you can add many years to the life of your swimming pool. Finally, visit any one of your local Sunny's locations today for more pool tips.