Owning a pool in Macomb Township, Michigan can be a thrilling experience. Imagine coming home after each hard day at work and hopping into a refreshing pool to cool off and ease your muscles. Not only will owning a pool in Macomb make you feel good, but it will improve the look and value of your Macomb home!
If buying a pool in Macomb has been on your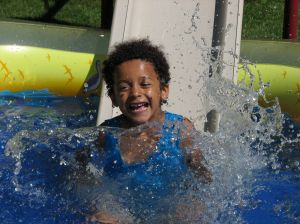 mind for some time now, it is the perfect time to make the final decision and head over to Viscount Pools for great savings on above ground or semi inground pools! Our wide variety of brand options will provide you with a perfect pool for your family and your yard. The look of your pool is in your hands with a variety of liners, covers, filters, colors, or shape options at Viscount West!
Many people are held back from purchasing a pool in Macomb, MI because they believe that it is a lot of maintenance to keep a healthy pool. Although it does require some work, more-so on opening day, there are ways to easily maintain your pool in Macomb. With automatic pool cleaners, you will have no need to scrub your liner or get debris that has fallen to the bottom of your pool. The cleaner, filter, and chlorine working together will keep your pool clean!
Sunny's Pools & More in Macomb
Our pool store in Macomb moved in 2019 to 51113 Industrial, just around the corner from where we were for many years. We have over 10,000 square feet and thousands of items to choose from.
Contact us today to find out just how easy it is to add a pool to your yard not only for yourself but to increase the value of your home as well!
Of course, our great deals and products aren't just available to residents of Macomb Township, MI. You can buy pools from us from anywhere. With Locations also in Waterford, MI, Flat Rock and Monroe, MI, we make it convenient for you! Regardless of where you are located in Michigan, finding a convenient Sunny's pool stores is easy.