*Revision note 2017: Viscount West is now Sunny's Pools & More*
When it comes to relaxation, owing a hot tub in Michigan is the perfect solution. Although a pool can soothe and relax during the warm summer months, a hot tub can be used all year long keeping you refreshed and rejuvenated. Whether you are a current hot tub owner, or are looking to become the proud owner of your very first hot tub spa in Michigan, at Viscount West, we have everything you need.
For first time Michigan hot tub buyers, Viscount Pools West has a large inventory of various types of hot tubs.  With great brands like Emerald Spas or Great Lakes Spas, you are sure to find the perfect hot tub to enjoy throughout the year with friends and family. Regardless of how big or small of a hot tub you are looking for the perfect hot tub is awaiting you. With spas ranging in size from 4 person seating, all the way up to 10 person seating, a hot tub or spa is available for any size space, indoors or out.
For those who are already experiencing the joy of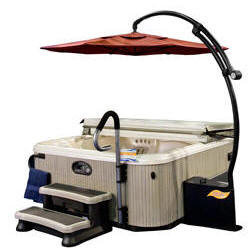 owning a hot tub in Michigan, Viscount Pools West carries spa accessories, covers, and chemicals to keep maintenance low cost, and convenient. Our most popular products this season are our thermal hard covers, allowing your indoor or outdoor hot tub to stay at the perfect temperature even during the cold Michigan months. Whatever lifestyle you live, Viscount Pools West has the hot tub accessories you need to bring it out of your home, and into your luxury Michigan hot tub.
Because winter is nearly here, now is a great time to save big on purchasing a brand new hot tub at one of our 5 Michigan locations;
Flat Rock, MI
Livonia, Michigan
Macomb, MI
Monroe, Mich.
Waterford, MI
For more information on great savings on, hot tub chemicals ,hot tub accessories, hot tub covers, or hot tub spas in Michigan, contact us today! We will be sure to give you the best deal in town!