With Michigan's summer weather as hot as it is, many families are taking to the pool. Even in areas with a lot of lakes like Waterford MI, people have above ground pools. Sunny's Pools & More carries a variety of ladders for above ground pools that you can purchase from any one of their five locations.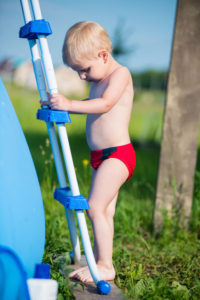 Pool Ladder Safety for Children
One of the scariest moments for a parent is when their child is playing near the pool. Regardless of what steps you take, we must always keep a watchful eye on our small children and not leave them unattended near the pool.
Sunny's Pools & More have several ladders for above ground pools in a range of styles and brands. All of which are designed for safety. Even so, it only takes a couple of minutes for even a small child to scale a pool ladder, fall into the pool and drown. Pool ladders designed for protection can buy you a few seconds which may be all you get.
Above Ground Pool Ladders for Sale
Our Evolution A-Frame Ladder is adjustable with 5 rungs on each side and the outer side swings up to be padlocked (the padlock is included). The Roll Guard A-Frame Safety Ladder has inner side rails with side barriers to prevent entry behind the steps of the ladder and a lockable roll guard barrier (the lock is included) for the outside of the pool to prohibit entry when locked. We also have Comfort Incline Ladders, Smart Step, Easy Entry Systems, and the secure step-gate combo ladder.
Pool Rails Available at Sunny's
Getting in and out of the pool safely is important as well. Some of our pool ladders come with dual handrails for comfort and safety. If you're adding or replacing pool rails or pool fence visit Sunny's Pools & More. We carry some in stock at our Macomb, Waterford, Livonia, Monroe & Flat Rock locations. If what we carry doesn't fit, then please ask us about ordering pool railing or safety fencing.
Come to Sunny's to get the best deals on the best ladders. All of our ladders have a 5-year protection warranty. So, if you don't like the ladder, either exchange it for another or return it for your money back!