*Revision note 2017: Viscount West is now Sunny's Pools & More*
THIS PROMOTION HAS EXPIRED
Viscount Monroe no longer has Billiards, refer to Waterford as clearance center for Tables.
As one of the top swimming pool and recreational entertainment supply stores in Michigan, the spring and summer seasons are our time to shine! This year will be no different here at Viscount West as we already have a boatload of ways for you to bask in the sun this year, and save money doing it!
You have the opportunity to get up to 75% off when you take advantage of our "Get Ready for Summer Sale," in which we will offer unbeatable deals on our Graystone brand swimming pool. We'll also be offering a "Special Year Round Pool Package" for 15 foot, 18 foot, and 24 foot pools,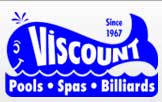 equipped with sand, a filter, a ladder, and a skimmer!
If you already have a pool or maybe relaxing in the hot tub is more your deal, then you can take advantage of the offer we got going on for our six-person Emerald brand 550SE hot tub! You get it all for just $5999, including stainless jets, a 56 jet intense foot massage, light show fountains, arctic insulation and more! Check out our Great Offers page to find out more details on these spectacular swimming pool and hot tub offers!
Of course, with the warm weather season comes the need to close the book on our winter deals. So for the month of April, while supplies last, winter closing items are all HALF OFF the original sale price. Any winter cover will be 25% off the sale price.
So anything left at the Viscount Pools West location nearest you is fair game on these offers, including water tubes, water bags, skimmer gizmos, antifreeze, backwash hoses, and winter cover saver wraps & air pillows. All you have to do to take part in these great deals is "LIKE" our Facebook page so you can fill out the information on the flyer posted on the page, print it out, and bring it to any one of our five locations.
Don't miss the chance to save big this summer at Viscount West!

Posted In: hot tubs, Sales, Swimming Pool
Tags: special hot tub offers Michigan, special swimming pool offers Michigan, spring swimming pool savings Macomb MI, spring swimming pool savings Monroe MI, summer hot tub deals Michigan, summer swimming pool deals Michigan