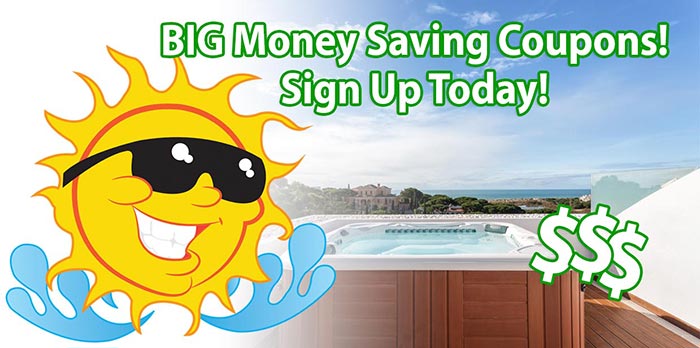 Do you like to save money? Of course, you do, who doesn't? Here at Sunny's Pools & More, we are offering money-saving coupons and great deals on everything you need to make your pool or hot tub look great and run great. When you sign up for our pool store coupons you will save money on chemicals, accessories, pool liners, and more.
Pool Store Coupons
To start saving today, it is really simple. Just go to our deals and coupons page, sign up and then you will get a code to log in and start saving. Once you are a member you will have access to pool chemical coupons, hot tub coupons and much more.
This is just the start of the savings. Along with the exclusive coupon page, you can visit our great offers section. Here you will see great offers that can save you money all year around. Our great offers have sales on hot tubs, game room furniture, swimming pools, chemicals, accessories, and much more. Found a price elsewhere? No problem, come into any one of our great locations and we can *match that price. (*Need proof of price, website or print ad.)
Here are just a few *examples of what you might find:
Buy One Get One (BOGO) coupons pool or hot tub chemicals.
Coupons for pool covers or hot tub thermal hardcovers.
Free chemicals or pool cleaners with purchase of other items.
* actual coupons change and vary from time to time, so check often!
Coupons To Use Near You
Once you have your coupons, you can visit any one of our great locations. We have pool stores in Flat Rock, Livonia, Macomb, Monroe, and Waterford. Sign Up then come in today! Our onsite experts can answer any questions you have about swimming pools, hot tubs, and game rooms. In addition to that, make sure to follow us on Facebook, Instagram, or Twitter for the latest news on offers or contests.  Finally, every new season make sure to get your water tested in your swimming pool or hot tub.
By having your water tested, you can make sure your water chemistry is correct to help prevent algae and other contaminants in your water.