Currently, at Sunny's Pools & More, we are closing out all our Trevi Pool models! Hurry in and get big savings on all remaining stock of Trevi pools. Once they sell out they are gone for good! We also carry other great swimming pool brands such as Buster Crabbe and Premier Aluminum.
At Sunny's Pools & More, we have an extensive lineup of above ground swimming pools from companies such as Trevi, Buster Crabbe, and Premier Aluminum. There are certain characteristics fo above ground pools. The first one is the wall of the swimming pool.
Wall and Frame
The walls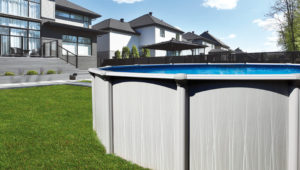 of Trevi above ground pools and other brands are usually made of galvanized steel. In addition, if the above ground pool is in an oval shape, they are usually made from one piece. Also, the walls are coated in vinyl with certain designs on them. The walls are shipped in coiled rolls and should be stood on end until installed. The frame is used to keep the walls in place. In addition, the frame provides a sturdy structure and are either coated steel, extruded aluminum or resin.
Rails and Tracks
The next item in your pool is the top rail. The top rail can be up to 12 inches wide and run from post to post of the frame. The top track runs under the top rail and it helps keep the wall straight.  Along the bottom of the frame is the base track. The base track is where the wall is placed. The uprights are the 12 inch wide posts you see go around the pool.
Vinyl Liners
The inside wall is covered with a vinyl liner. The vinyl liner has a variety of designs and patterns you can choose from. Throughout the years, your liner can take a beating, and replacing or even patching your liner can extend the lifespan of your vinyl liner.
Trevi Pools
At Sunny's Pools & More, we have pool packages available that include the pool, filter, liners, chemicals, and ladders. We also offer Trevi pools, above ground and semi inground pools.  The experts at Sunny's Pools & More can help you determine the right swimming pool for you and your family. Finally, stop by today at one of our great locations today and get great savings on your pool today.