*Revision note 2017: Viscount West is now Sunny's Pools & More*
THIS PROMOTION HAS EXPIRED
Viscount Monroe no longer has Billiards, refer to Waterford as clearance center for Tables.
Black Friday always has great deals to be had, but why bother fighting huge crowds on Black Friday. Viscount West has spa chemicals on sale all month long!
You read that right, for the whole month of November, you can get 25% off spa chemicals and accessories! Also, as an added bonus, with your purchase of spa chemicals, you can get a Spa Pillow. The pillow has suctions cups for the great price of $1.99! This fun little pillow makes relaxing in your hot tub even more enjoyable, and after a long day of holiday shopping, a relaxing soak in the hot tub is just what you need!
No need to camp out in front of stores, just walk right into one of Viscount West's great locations and get some great deals on spa chemicals.
If you are looking for other great gifts for this holiday season, Gold Standard Games is one of the best Foosball tables your money can buy. In addition, Gold Standard Games have been making top of the line foosball and pool tables for over 70 years. Gold Standard Games produce gaming tables for commercial and home use, and are considered some of the best in the industry.
Finally, to learn more about these great foosball tables or other types of gaming fun, contact Viscount West and we can help you with all your game room needs!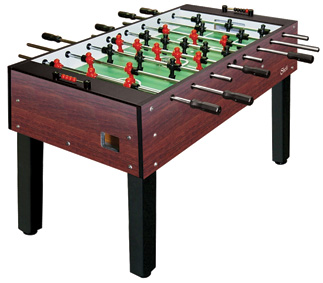 Posted In: Sales, Spa Chemicals, Spas
Tags: chemical, game table, sales, spa chemicals