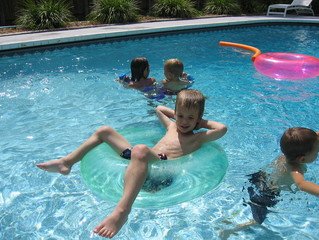 September has arrived. That means pool season is coming to an end. Most people are preparing to close down their pools in the coming weeks. However, before fall comes around, people should be preparing to end summer with fun.
That is right! End of summer pool parties is starting up. People underestimate how important this type of party can be. Pool parties are fun but they also provide a good way to say goodbye to the summer.
Benefits of End of Summer Pool Parties
Pool parties are fun but they can good way to say goodbye to the season. There are benefits to have an end-of-summer pool party. It helps your prepare for the end of the season in a variety of ways. Both emotional and physical. But most of all, ending the summer with a bang!
Transitioning
An end-of-summer pool party helps people transition between summer and fall. September marks the beginning of school, changes in temperature, and adjusting to new habits. During the summer, most people get into new habits. Kids had three months off of school to swim and play. High temperatures caused people to rely on their pools to keep cool. However, the fall season prevents people from using their pool. That is why an End of Summer Pool Party is a perfect way to start this transition. It allows your kids to understand that end of summer is here and for you to start preparing for the fall.
Hanging Out with Relatives and Friends
The summer tends to give some leeway for people to visit relatives and friends. However, fall brings a lot of change into people's schedules. Meaning, you won't see them as often as you could over the summer. A pool party is a great way to get everyone together for a final celebration before everything changes. You get a chance to have quality time with the people you love and enjoy your pool one last time.
Preparing to Close Down Your Pool
Besides the benefits of enjoying your pool with your friends, this party allows you to focus on closing down your pool. Closing down your pool is important, especially in states like Michigan. Although states with milder or no winter can keep their pool open, Michigan pool owners can't. Frost, snow, and freezing temperatures can damage your pool if it is not closed down properly. Winterizing your pool prevents contamination and cold damage. So setting a hard deadline to start the process is important. So, why not after a great pool party?
---
End of Summer with Sunny's
Having an end-of-summer pool party is a great way to end your summer with a bang! And Sunny's Pool & More has all you need for before and after your pool party. Sunny's has everything you need for your pool. From pool chemicals to pool toys, Sunny can help you. Sunny has a variety of chemicals for your pool closing needs. We have opening and closing kits for pools to make it even easier. In addition, Sunny's has a variety of pool toys to give your pool party the fun it needs.
Before you close down your pool, you need to ensure that your pool is balanced. A water test will help you determine what chemicals you will need. At Sunny's, we are offering a free water test with an extra 10% of all chemicals at the time of the test!
End your summer properly with help from Sunny's Pool and More!
Posted In: Swimming Pool