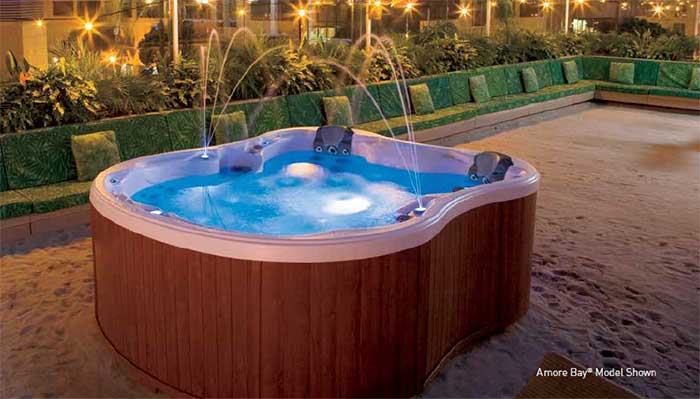 Fall and winter is the time where the air gets windy and cold and all you want is warmth. This is the season to buy your hot tub in or near Flat Rock, Michigan. You've been thinking about it for a while, maybe you've even had a couple of family meetings about buying a hot tub in Michigan. But it's time to make the decision! Our Flat Rock Michigan location sells high-quality hot tubs all year round and is offering great options and specials this winter.
Sunny's Pools & More sells two brands of hot tub spas in Michigan Dimension One and Viking Spas. Also, the options when buying a hot tub at our Flat Rock retailer location are almost endless. Our high-quality hot tub spas can be upgraded with these options of;
Spa Shell Colors
Premium natural Cabinets
SuperTherm hot tub cover
Soft-Glo Light Package (LED lighting)
Stainless Jet Finish
Waterfall Jets
Dimension One hot tub's are designed to be user-friendly and with trouble-free maintenance. Their designs are built with quality and durability for state of the art hot tubs spas sold in MI. Comfort is another aspect of Dimension One in Flat Rock Michigan, their hot tub spas offer different seating types so you can target different muscles and get the experience you anticipate in a hot tub spa to buy.
Sunny's Pools & More Of Flat Rock
We offer hot tub spa accessories to keep your hot tub up to date and running smoothly. When you're looking for your new hot tub to buy our retailer in Flat Rock MI has top of the line spa accessories.
Spa Frog: Mineral Sanitizers, a mineral system for spas for high-quality water
Nature2 Spa by Zodiac: mineral-bed technology to get rid of bacteria in hot tub spa water
Duran steps by Leisure Concepts: Steps to get into hot tub easily.
Spa Hot Tub Covers: CoverMate I, most popular hot tub cover in Flat Rock Michigan.
Safe-T Rail by Leisure Concepts: Slip free handrail
Spacaddy by Leisure Concepts: Attached table for drinks and snacks.
SmartBar: Bar for drinks and snacks, drawer included, slip resistant, removable or permanent.
Towel bar by Leisure Concepts: Attachable and fold-able towel bar
Spa Umbrella: Base under the spa, canopy over spa, easily removable.
We also have a nearby location to Flat Rock downriver MI, in Monroe, Michigan to purchase and find the hot tub that will suit your style. Finally, with other locations in Southeast Michigan, if there is a better location for your convenience we can accommodate you contact us today at (734) 783-8400.