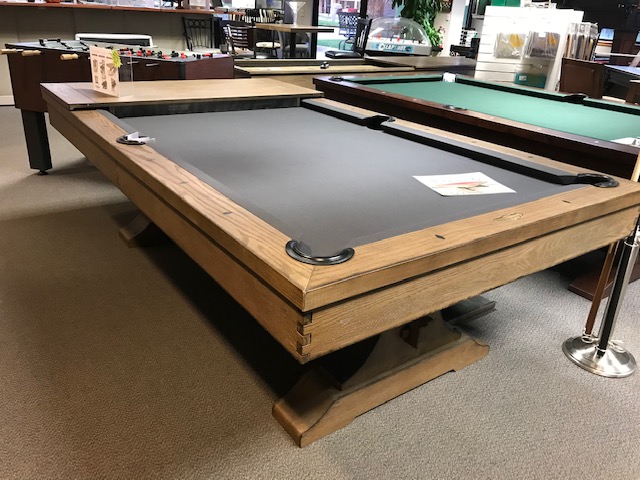 Looking for game room furniture for your next party? The fall season is just a prelude to all of the celebrations to come. Halloween, Thanksgiving, Christmas, and New Year are all holidays that involve gatherings of family and friends. A game room becomes a designated hangout area during these events. So, why not add to the space?
Pool Tables
A game room is not complete with a pool table. Billard tables are the centerpieces of the game room, where the majority of social interactions occur. Nothing is more iconic is a group of friends gathering around a pool table, playing a game as they talk about life. Pool tables provide an outstanding amount of benefits for owners. Having a pool table for the holidays will definitely enhance your game room for the holiday celebrations. You can also add pool table accessories, like cue racks, spectator chairs, and spectator tables. However, there are plenty of other games that you can add to your space.
Shuffleboard And Slapshot Hockey
A unique furniture option and game to add to your space is shuffleboard. This classic game was developed over 500 years ago in Europe and still is very popular! Table shuffleboard is an excellent addition to any game room, providing another way to entertain your guests. However, if you don't want to add another long table to your game room, you install a Slapshot Bubble Hockey game instead. Slapshot hockey can bring hours of enjoyment, regardless if you are a hockey fan or not. This hockey game includes:
Side-mounted electronic scoring with goal-scoring sound
Steel Rod Supports that allow torque and pressure to be applied
2:1 Turning Ratio on the gearbox which allows quick player response
Game Room Additions for the Holidays
These game room additions are excellent, especially around the holidays. Christmas is the best time of year to add to your game room! Since game rooms are shared spaces, nothing is better than getting an entire gift for the family! After all, family bonding time over social games like pool tables and shuffleboard is priceless. In addition, you can make your game room the heart of your home! Instead of sitting in the living room to open presents, why not set up your tree right in the game room? However, why just stop at the game room furniture?
If you have a pool, buying new toys and accessories for swimming season can be amazing gifts! After all, who doesn't love pool toys? And patience is a virtue!
Get Game Room Furniture at Sunny's Pool & More!
If you're looking for game room furniture for your next party, Sunny's Pool & More has everything you need and more! Our store has a large pool table collection that comes in a variety of felt and pocket options to get your dream table. All of our pool tables come with on-site services and other benefits! In addition to having game options, Sunny's has brand names bar stools and tables like Premier Furniture and Trica Bar. Visit the Macomb showroom today or contact us about game room options! Check out potential holiday specials as well through our great offers!
Posted In: Game Room
Tags: Game room, Game Room Tables and Accessories, pool tables