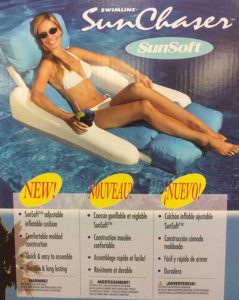 This Father's Day get dad a nice relaxing way to chill in the pool with a SunChaser Sunsoft Lounge chair. This floating lounge chair is the perfect way to spend the day relaxing while listening to the Tiger's game and having a drink. This floating lounge chair features adjustable inflatable cushion, comfortable molded construction, quick and easy to assemble, and durable long-lasting materials.
Luckily, this great relaxing chair is on sale for Father's Day half off right now! Our Monroe location has these chairs in stock and ready to sell. Of course, we hundreds of other pool accessories and toys to choose from. Visit the experts at Sunny's Pools & More today for everything you need for dad this Father's Day!
Automatic Pool Cleaner Makes a Great Father's Day Gift
Naturally, we have hundreds of items and gift ideas for dad this Father' Day. One of those great deals is the Dolphin robotic pool cleaner from Maytronics.  Nobody likes to stay out by the pool for hours just skimming and cleaning. The Dolphin automatic robotic pool cleaner helps you, so you do not have too.
Dolphin robotic pool cleaners can clean any size and shape pool you may have. The Dolphin has advanced scanning, filtration, and brushing technology. In addition, it is designed for fast maintenance and make the cleaning process effortless. These cleaners scrub away algae and other contaminants that can be found in your pool.
Just in time for Father's Day, Sunny's Pools & More has a trade-in program for your old robotic pool cleaner. That is right, you can get up to $200 off your new pool cleaner with the trade of your old one. Please call one of our convenient local locations first to see if your cleaner qualifies.  In addition to this great deal on robotic cleaners, we also offer deals on chemicals, accessories, toys, ladders and more. If you are looking to have fun in your pool this summer, stop Sunny's Pools & More because we have everything you need for your pool!
Posted In: Accessories, Holiday