*Revision note 2017: Viscount West is now Sunny's Pools & More*
Viscount Pools West offers a wide array of hot tubs to choose from, great brands such as Emerald Spa and Great Lakes Spa. A hot tub is a great way to relax and even stay warm in the cold Michigan winters. But one thing that you may need from time to time to help in the enjoyment of your hot tub is accessories.
Hot tub accessories range from chemicals to covers. These accessories can help enhance your enjoyment of your hot tub. When it comes to finding Hot Tub Accessories in Michigan, look no further than the Viscount West location near you. We have everything you need to keep your hot tub running and looking great all year long.
The first and most important accessories every hot tub owner should have is sanitizing products. The health of your spa water is very important, and you want to keep it clean for everyone to enjoy. Products that can help in this area are Spa Frog and Sani King, these two products can make sure the health of your water is in proper order.
Hot Tub Accessories DuraSteps II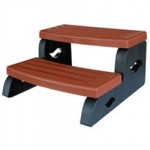 Another nice hot tub accessory to consider is DuraSteps II by Leisure Concepts. These durable and elegant looking steps, make it easier for spa users to get in and out of the tub. The DuraSteps come in a variety of styles and colors to choose from and are reasonably priced.
During the winter months in Michigan, we can get quite a bit of snow, to keep your hot tub covered, Leisure Concepts have Spa Cover Lifters. The cover lifters are rust free, non corrosive and easy to install. Make removing your hot tub cover a breeze with this accessory.
This is only a small sample of the large variety of spa and pool accessories available in Michigan at our stores. Visit your local Viscount West location for all your hot tub accessories!
Posted In: Accessories, Hot Tub Covers, hot tubs