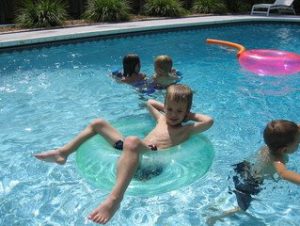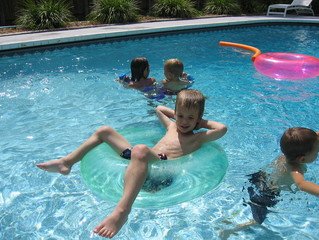 When the weather gives in and you get ready for opening your pool for the spring in Michigan, do you know all the necessary steps to take? Whether you're a relatively new pool owner or someone who would just like some refreshing, Sunny's Pools & More is here to help! Michigan winters can be brutal and leave a pool in need of care. Spring in Michigan can be very wet. Water levels rise as the ground thaws and rain pours. This can cause a number of problems including more dirt and debris. Here are some tips to help you with that.
Opening Your Pool Tips
Once you remove your pool cover and clear it of any debris, use a submersible pump. Pump off any remaining water if you use a solid cover. But be careful if your cover has a hole in it. Because you will be pumping water out of the pool. This could cause pool draining. Make sure you then clean your cover, give it time to dry, and store it for next winter.
Add water using a garden hose or other water supply. So that the water level of your semi-inground or above-ground pool is at its normal level.
Make sure your filter system is thoroughly cleaned and then start it up. You first must prime your pump, then you can start your motor and begin purging air from the plumbing. Since air will be compressed during this process, you'll want to let any pressure that has built up out so that it is released before you open your filter or pump.
Next, you'll want to inspect your above-ground or semi-inground pool for leaks. If you do notice leakage, be sure to make a note of that and turn the pump off. If not, let the pump continue to run as you would.
Once you vacuum all the dirt that has built up, it's time to check the water chemistry. Before you add chlorine, allow the water to circulate for at least eight hours. After that, you can test the water and add the chemicals it needs to make sure the water chemistry is balanced.
Now you can add any ladders, handrails, or lighting you have for your swimming pool and then set the pool timer. Remember that the water needs to be circulated at least 6-10 hours. It will depend on how big or small your pool is.
Finally, we recommend cleaning your tile lines with pool tile cleaner or baking soda. Also, use a sponge and avoid household cleaners that could add extra unsafe chemicals to your pool.
Visit Sunny's Today
If it's chemicals that are holding you back from cruising through this checklist, then contact Sunny's Pools & More and we can take care of that for you in no time. We're the ones to call when you prepare to open up your semi-inground or above-ground pool this spring in Michigan!