Did you know owning a pool table can make you healthier? For years, pool tables have been an important piece in a game room. It is the centerpiece of the entire area. However, the modern era is causing changes in the way we interact. After all, adults and kids are attached to their technology. Phones and video games have become a prominent way to entertain yourself.
Physical & Mental Benefits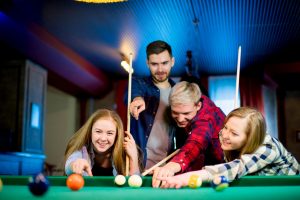 Just like other games, billiards provides benefits for people who consistently play. After all, people gain healthier lifestyles if they play games, especially sports. You wouldn't think so, right? I mean playing pool, actually making you healthier? There's more however, check out our article on The Benefits of Pool Tables.  Owning a pool table can improve your wellness on a physical, mental, and social level!
Parents, instead of letting your kids live on their phones, tablets, and video game consoles, GET A POOL TABLE!
Social Benefits
The most important benefit and the reason to own a pool table is to get face-to-face social interaction.  Having social skills is the most important skill for a human to have. After all, humans are social creatures and we survive by having relationships with other skills. This is especially important for kids, who are developing the building blocks of social engagement. Pool tables are great for social situations. It is an easy way to decompress and break away from the screen. Interactions during the game can help you foster healthy competition habits and become a well-rounded individual.
Are You Ready To Own A Pool Table?
So with that,  are you ready to buy a pool table? Sunny's Pools & More can make the process easy and right now save you a ton of money! We only sell high-quality billiards and usually, that means high dollars. A new slate pool table can easily cost $4000, but RIGHT NOW at Sunny's, we have a truly UNBELIEVABLE DEAL!  Owning a pool table can make you healthier, so why wait? Check Out Our Showroom Display Deals or  Contact us today!
Posted In: Pool Tables
Tags: Pool Table Benefits, pool tables