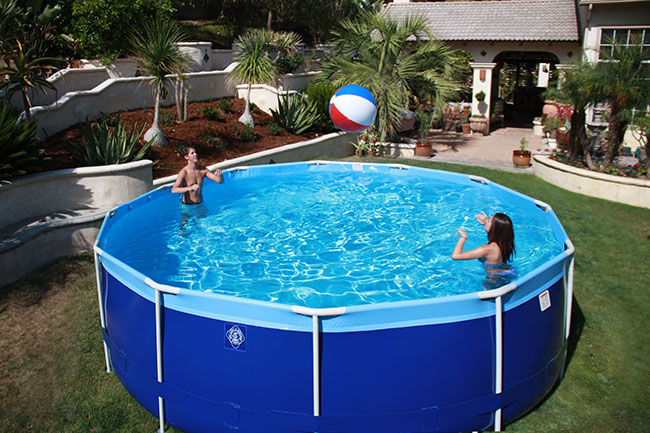 Quik Swim Round 16 ft Pool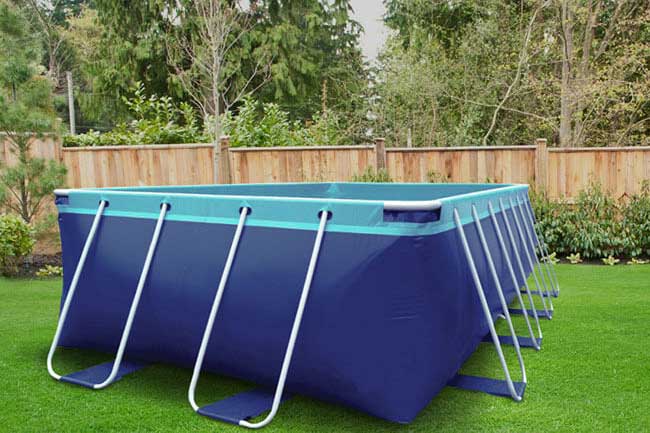 Quik Swim Rectangular 10 ft x 18 ft Pool
---
Are you looking for a quick and easy way to install a swimming pool in your backyard this summer? Well, the answer to your problem is the Quik Swim Pool from Splash-A-Round Pools.  These fun easy pools are very sturdy and can handle the whole family having fun all summer long. The best part, Sunny's Pools & More has Quik Swim Pool Packages for a great price right now!
Quik Swim Pool Package Details
When you purchase your Quik Swim Pool at Sunny's Pools & More, we include a Hayward Filter, pool ladder and a skimmer with your pool. We provide you with everything you need to get your pool up and running and lasting all summer long. These pools provide a great way to stay cool all summer. There are two types of pools to choose from.
The Quik Swim 16 ft round and 48-inch tall round swimming pool with Heyward filter, ladder, and pool skimmer is $499.00.
The Quik Swim 10 ft x 18 ft rectangular and 48-inch tall swimming pool with Heyward filter, ladder, and pool skimmer is $599.00
ACT NOW and get a bonus FREE Vacuum Package! That is a $50 value for FREE for the month of July!
Features and Details of the Quik Swim Pool
The liner is made of a durable 35 mil. reinforced poly-fabric 3-ply material. There is a 10-year limited warranty on the frame and liner.  The frame has a heavy-duty 2″ top rail and a gray baked enamel coated galvanized steel framework. In addition, this is an easy snap together framework that assembles in less than an hour. In addition, the frame does not require any tools.
If you would like to see a demonstration of this pool, please visit our Flat Rock store to check out the display, they have both pools up and running for you to check out. In addition, if you have any questions about the Qwik Swim pool or any of our other swimming pools please feel free to visit any of our locations. Finally, this pool package is the best way to save money and buy a pool for your family. Hurry in today because the stock is limited!