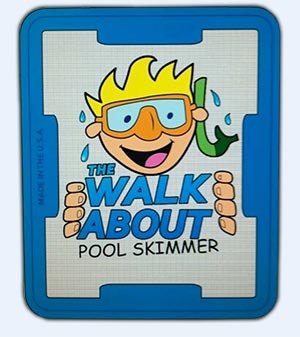 Introducing the Walkabout Pool Skimmer!
The Walkabout Pool Skimmer is a fast easy way to clean your pool. This pool skimmer can cover a much larger area of your pool in a quicker time than more traditional pool skimmers.
The dimensions of the pool skimmer are 36 inches (38 inches with brushes) x 28 inches. Also, it can be used horizontal or vertical. It also has two brushes to clean the sides or bottom of the pool. It can be yours for only $49.95!
Some great benefits of owning a Walkabout Pool Skimmer are:
This skimmer is a much easier way to clean your pool!
The whole family can use this fun pool skimmer!
Not only good for pool cleaning but can make a great exercise tool!
Cleans much faster than smaller more traditional skimmers
The Walkabout Pool Skimmer is now available at all Sunny's locations. Of course, this just one of the many unique products Sunny's Pools & More carries for your swimming pool. Also, we have everything you need for your hot tub, patio or game room. Visit one of our great locations in Monroe, Macomb, Flat Rock, or Waterford. Finally, our experts can answer any questions you have about maintaining your pool all summer long!
---
See the Skimmer in action: