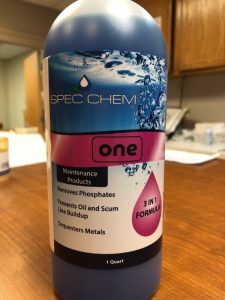 Spec Chem One is a three-in-one pool water maintenance solution. This product will remove Phosphates, prevent oil and scum line buildup, and sequesters metals. This is a chemical that is great to be used at this time of year to help remove the buildup of suntan oils and lotions that can clog the filter and use up more chlorine than normal. It also helps the metals and minerals that are present in water to help prevent staining. It also removes phosphates from the pool water also.
Spec Chem One Free With Water Testing
Act now, and visit one of your local Sunny's Pools & More for free water testing. Knowing the health of your pool water will help maintain your pool all season long. Sunny's Pools & More tests your water's PH levels, alkalinity, calcium hardness, free chlorine (good chlorine), combined chlorine (dead or bad chlorine), total chlorine (average of both free chlorine and combined chlorine together), total dissolved solids, stabilizer/conditioner, and metals (mainly iron, copper, and manganese).
Spec Chem One can help keep your water clean.  Ask one of our experts at Sunny's Pools & More for the use of which chemicals that will most benefit you.  Our new location in Macomb is a great location with a huge showroom floor. Located at 51113 Industrial, Macomb, MI 48042 this right near our old location.  In addition to water testing, visit us today for great deals on umbrellas and patio furniture.
Of course, we carry a large variety of game room items as well. From pool lights to new bar stools, we have it all to make your game room the place to be. Pool chemicals are essential to any pool owner, make sure to visit us today for all the chemicals you will need. In addition, make sure to check out all our pool toys as well!
Posted In: pool chemicals, pool cleaning
Tags: chemicals, Spec Chem One