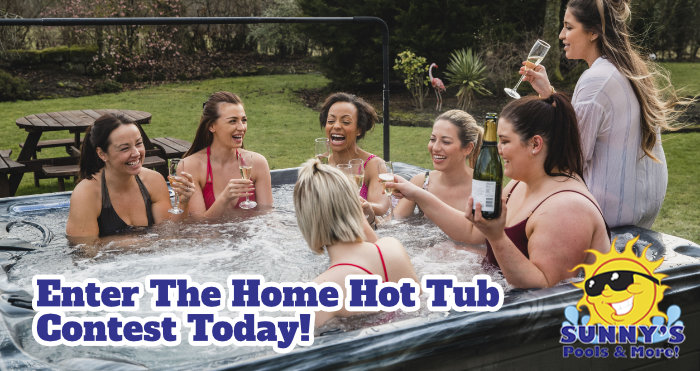 Unfortunately, 2020 made most of us stay at home way more than we liked.  But that also meant you got to spend a lot more time on your hot tub! Send us a hot tub picture of you and your friends and family enjoying your time in a hot tub. You will be entered to win great prizes from Michigan's number one source of all things hot tubs, Sunny's Pools & More!
There will be three random winners chosen on February 26th. So make sure to enter right away. The first-place winner will receive a year's supply of chemical of spa chemicals a $250 value. Second place will receive a $150 in-store credit. Finally, third place will receive a $75 in-store credit. The whole thing is very simple to enter. Just fill out the form below and attach a fun photo of everyone having fun in a hot tub!
Hot Tub Picture Contest Rules
The deadline for entry is February 26th, 2021.  Three lucky winners will be drawn at random on March 1st, 2021, each winner will be contacted by email with instructions on how to claim their prizes. One entry per person contest open to all Michigan residents.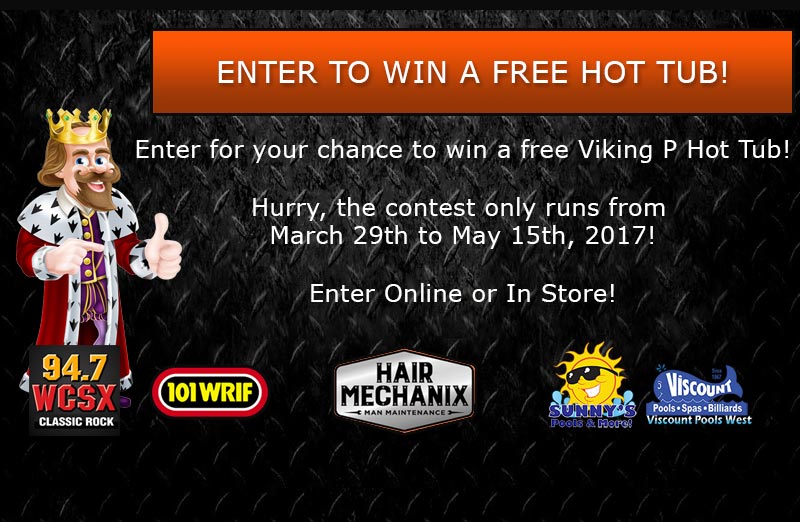 CONTEST HAS ENDED
Starting March 29th in conjunction with Hair Mechanix, Sunny's Pools & More, are giving away a FREE hot tub! You read that right, one lucky winner will be selected to win a free Viking P hot tub. Listen for our ads on 101 WRIF and 94.7 WCSX, then enter to win your free hot tub. Just fill out this form right here, and you are entered, just that simple!
We partnered with Hair Mechanix, the best place for guys haircuts in Michigan, to give away this great prize! So visit one of their local locations or one of Viscount West locations for more details!
Free Hot Tub Grand Prive Viking P Hot Tub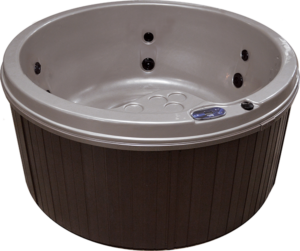 The Viking P hot tub is a versatile hot tub that is fun for the whole family. Easy to install and fun to enjoy, the Viking P makes enjoying a hot tub a breeze. In addition, the Viking P out panel is a single unibody design so it will not separate or fall apart.
Some features of the Viking P hot tub include:
Seating For: 4-5 People
Total Jets: 9
1 Pump W/1HP
110V/240V
BalboaTM Power System
White Spa Light
20 (Sq. Ft.) Filtration
Soft Touch Shell
Slip Resistance Surface
Resin Venting Cabinetry
The Hot tub has an MSRP of $4,195, but you can win it for free! Also, the hot tub has a lifetime shell warranty and a 2-year parts & labor warranty. Enter today for your chance to win!
Spa Marvel Cleaning Chemicals
If you own a hot tub or win a free one, you want to keep for spa water clean. To do this, we suggest SPA Marvel. The best part about SPA Marvel is it is environmentally friendly with no harsh chemicals. By using SPA Marvel you greatly reduce the need for any other kind of treatment for your spa. Visit Sunny's Pools Location today for more information on SPA Marvel or any cleaning accessories.
*Revision note 2017: Viscount West is now Sunny's Pools & More*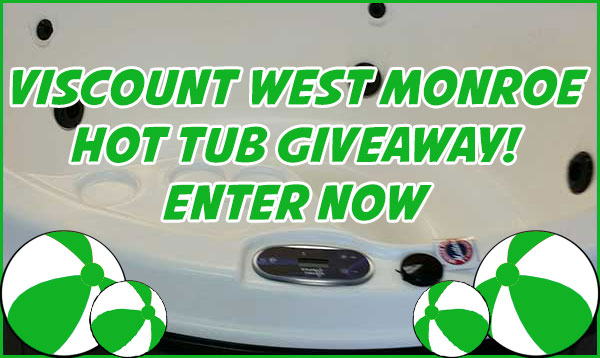 CONTEST HAS EXPIRED
At Viscount West, we are always running great contests and deals for you t o win great prizes.
There is still time. The Monroe County Fair runs until August 6th which gives you time to stop by and visit the Viscount West booth for your chance to win a free hot tub! That is right, we are giving away a free hot tub to one lucky winner. To enter is really simple, you have to be a Michigan resident and provide a name, email, phone and address. A winner will be drawn at random so hurry and enter today!
Contests and Deals – Pool Breeze

Pool Breeze is a great cleaning solution for your pool water. Pool Breeze filter cleaner polishes the water by collecting the tiny particles that cause cloudiness into larger particles the filter can remove, leaving the water crystal clear!  For a limited time, Viscount West is offering a bottle of Pool Breeze for free.
Click here and print out the page and bring it in to any Viscount West location. Pool Breeze is made by Lonza, one of the industry leading specialty chemical manufacturer and supplier in the world. Not only does Lonza produce Pool Breeze but they also offer Poolife brand pool chemicals.
The poolife brand has a complete line of Algaecides, Balancers, Maintenance Products, Sanitizers, Shock and Oxidizers as well as Pool Care Systems. At Viscount West we carry a full line of pool and hot tub chemicals to help you maintain your water.
Along with poolife, we also carry Spa Marvel. Spa Marvel  is one of the industry leading water treatment  and conditioners on the market today. Spa Marvel's products are environmentally-friendly enzyme based spa-water treatment product that can help drastically reduce the need for many other chemicals in your spa water.
Viscount West offers a wide variety of pool or spa chemicals for you to help maintain your water. Give us a call today or visit one of our great locations for more information on products helpful for your pool or spa!
*Revision note 2017: Viscount West is now Sunny's Pools & More*
The summer was a blast at Viscount Pools West! We spent the summer enjoying it with our loyal customers and helping them have the best possible experience with pools and spas. It's time to winterize your pool for the fall and winter season in Michigan. Most Michigan pool owners do pool closings after Labor Day. Closing your pool for winter does not have to be a difficult process. We have a variety of products for pool closing that makes closing your pool a breeze.
Opening / Closing Pool kits
One of the best pool product lines that we carry at Viscount Pools West is Poolife.  The Poolife Pool Care Collection

offers the Poolife opening/closing kit which makes closing your pool easy. This all in one pool closing system comes with open/close Algistat, TurboShock shock treatment, and a metal removing agent for up to 20,000 gallons. This product is available at all Viscount Pools West locations.
Win a free Poolife Opening Kit / Closing Kit here in our Viscount Pools West's Funny Photo Contest!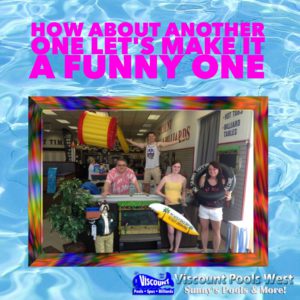 Our contest runs from now until Friday, September 11, 2015. To enter, drop a funny of you using a Viscount Pools West product. Winner will be selected and posted online on Monday, September 14,2015.
Don't forget to click the photo to enter!
Congrats to last month's photo contest winners!