Hot tubs are a great way to enhance your backyard. They're not only an excellent source of relaxation, but they are also very affordable and easy to transport. One of the biggest advantages that hot tubs have to offer are countless benefits to improve your overall health. Let's dive in to see the many reasons as to why hot tubs are a "must-have" and why owning a hot tub is awesome!
3 Reasons for Why Owning a Hot Tub Is Awesome
Hot tubs provide the perfect environment to share with your family and friends. Aside from it being easy to maintain, the best part about it all is that it provides:
Mental Benefits-hot tubs can help calm nerves and alleviate stress. It also can be used as a mood elevator. As soon as you step foot into the hot tub, it's almost as if your mind can naturally free itself from its regular day-to-day worries.
Musculoskeletal Benefits-immersing in a hot tub works wonders on a person's body. It reduces the pressure from your joints and relieves pain. Having jets in your hot tub helps to improve circulation and lessens swelling and inflammation.
Sleep Benefits-if you have difficulty sleeping, soaking yourself in a hot tub can help you significantly. It turns out that soaking yourself can force your body to cool down–thus allowing for your body to sleep comfortably throughout the night.
Buy A Viking Hot Tub Today
Looking to buy a hot tub? Our Viking Hot Tub is one of our best sellers and has been in the hot tub business for over 25 years. Viking spas offer some of the most advanced features in the spa industry. In fact, a few features that we include are LED lighting, stainless steel jets, and stereos. Interested in purchasing one of our hot tubs with chemicals and accessories? Give us a call or contact us today!
*Revision note 2017: Viscount West is now Sunny's Pools & More*
Hot tub season is beginning at Viscount Pools West. At Viscount Pools West, we love hot tubs! Our wonderful customers purchase Dimension One Spas or Viking Spas hot tubs from us for many reasons. Here is a list of the top three reasons why you should buy a hot tub at our Livonia, Macomb, Monroe, Waterford or Flat Rock locations!
3 Benefits of Hot Tubs
1) Improved Health
Did you know that getting in a hot tub can make you sleep better at night? Hot tubs increase your body temperature and makes it easier for you to fall asleep.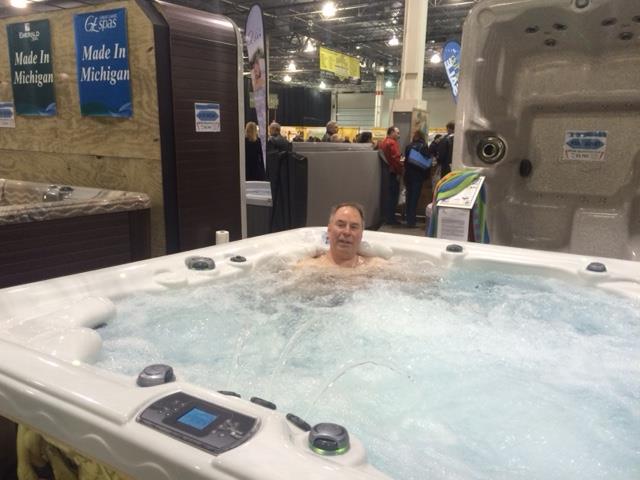 Using a hot tub can also relieve aches and pains by promoting circulation and reducing swelling. The steam from the hot tub can also help while you are congested.
2) Aesthetics / Value
There is a certain prestige that people get when they buy a hot tub in Michigan. Purchasing a hot tub could increase your social status. Hot tubs will also increase the value of your home. Homes with hot tubs in them sell better. Who doesn't want a hot tub after all?
3) Entertainment
Hot tubs can be used all year around for entertainment. Enjoy cool summer nights in your hot tub. In the winter, you could have parties with a warm hot tub as entertainment for your guests. Don't want to get wet? You could add a fountain with colored lights. This will give your hot tub a decorative look while incorporating it into party.
Viscount Pools West has a variety of hot tubs and hot tub accessories (including thermal hot tub covers)  that you need to make your life complete. So if you need a hot tub in southeastern Michigan, don't forget to come to your favorite pool supplies and billiards store. Contact us or visit one of our locations.