*Revision note 2017: Viscount West is now Sunny's Pools & More*
Do you wish to get an up close and personal look of the Emerald Spas hot tub from our giveaway before you take it home? The Novi Home & Garden Show on March 27-29th is your chance to see, feel, and taste the sweet life that Viscount Pools West's hot tubs provide. This year's show will feature 24 landscapers, outdoor designers and multiple home improvement specialists to help you with your home renovation projects. Make sure that you stop by Viscount Pools West's booth to learn about how adding pools or hot tubs can increase the value of your home! You will also be able to enter to win the Emerald Spas hot tub that we are giving away on site. The "It's Hot Tub Time Giveaway" is running until the 31st of March. Don't wait! Enter today.
Novi Home and Garden Show at a glance 
What: The Novi Home & Garden Show
When: March 27-29 and is open Friday 2-9 p.m., Saturday 11 a.m.-9 p.m. and Sunday 11 a.m.-5 p.m.
Where:Suburban Collection Showplace 46100 Grand River Ave Novi, MI
Cost:Adult admission (ages 13 and up) is $10; seniors (ages 55 and over) are $9 and children ages 12 and under admitted free!
Visiting the show? Make sure you use the hashtags #novihomeshow and #HotTubTime when tagging the photos of Viscount West. Have a great time!
*Revision note 2017: Viscount West is now Sunny's Pools & More*
Viscount Pools West is going to be at the Novi Home Improvement Show at the Suburban Collection Showplace. Also, this year' s show will run from January 23-25, 2015 in Novi, Michigan. The admission price is $10 per adult and $9 for seniors that are 55 and older. Children 12 and under are free.
Every year the show is put on by the Home Builders Association of Southeastern Michigan (HBA). HBA is made up of builders, remodelers, property owners, developers, or suppliers in the construction industry.
Novi Home Improvement Show Booth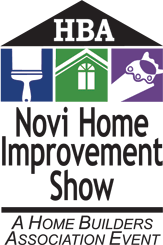 Come visit Viscount Pools West at the show for pool supplies, hot tubs, or billiards in Michigan!
Finally, follow Viscount on Facebook! We are giving away cue sticks all month!