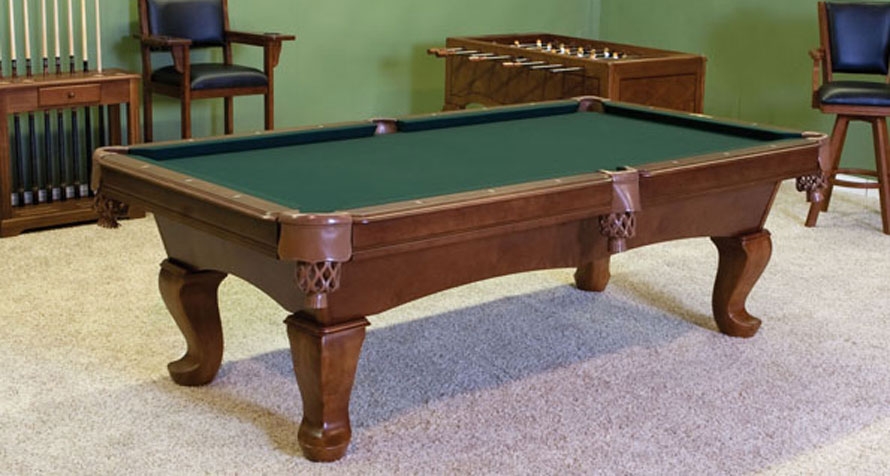 A nice pool table is always a great centerpiece for any game room.  A pool table can provide hours of enjoyment for any event or get together. Over the years your table can take a beating from all the use and may require pool table maintenance. In addition, your table may need full service for repairs. The good news is Sunny's Pools & More provides pool table services at a great price! Also, for a limited time, we have $50 off any pool table service!
Pool Table Maintenance To Be Aware Of
One item that may damage your felt, in the long run, is none other than chalk. Over time the abrasive chalk builds up in the felt destroying it. Even after sweeping a table, a lot fo the chalk dust will remain in the felt. In addition to sweeping the table, use a light vacuum with soft brushes to suck out the leftover chalk dust.
Another item that can damage your pool table is nonother than the sun. Many people like to place their tables next to large windows or in a sunroom, well over time the sun will fade the top of your table. In addition to fading, it can possibly bleach the tables finish. Also, consider the moisture in the room. An excessively dry room can dry out the wood of the table causing cracks. One of the most common things that damage a pool table is people and pets. Yes, your table is sturdy but it is not designed for you to sleep on! The same goes for Mr. Fluffy and his claws, stretching out and testing his claws on your felt. If you want to keep your table looking great then keep people and pets off of it.
Pool Table Service in Your Area
Even if you take pristine care of your table, there still might come a time when you will need service for your pool table. Your local Sunny's Pools & Mores offer extensive pool table services to keep your table looking the best and ready to play!