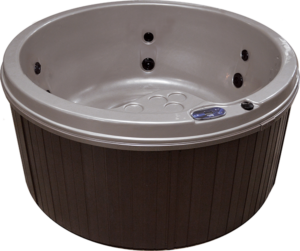 *Revision note 2017: Viscount West is now Sunny's Pools & More*
Well, it is close to that time of the year when for whatever reason some people decide to close their
hot tubs for the winter. Here is the preferred way to winterize a hot tub.
We feel that winterization should be left to the pros, and when done carefully using the following instructions your risk of damage from freezing can be minimized! Please note products doesn't warrant against freeze damage in a tub that has been winterized, either by the owner or by a professional service center.
Winterize a Hot Tub Process
Things that will be needed: 2 Gallons of NONTOXIC (R-V type) antifreeze, a strong wet/dry vacuum (shop vac), a turkey-baster, 1 or 2 light plastic dishes approximately 5" diameter
(from the bowl container), and Time approximately 2 hours.
*Instructions: Drain your tub. With a wet-vac, vacuum out of any water remaining in the foot-well and the seating. Then with each jet in the open position, vacuum each jet nozzle until no more water is being drawn out. DO NOT FORGET the small ozone jet in the foot-well. If your tub has a whirlpool diverter jet (all Hot Tubs have at least one) with a vacuum over the whirlpool jet nozzle (and plastic dishes over the suction intakes in the foot well) turn it to each position until there is no more water being drawn out.
Remove your filter, clean it and place it in storage until you restart your tub. Pour the NONTOXIC antifreeze into the filter canister until it runs out into the foot-well of the tub through suction intakes. With the turkey-baster, squirt a small amount of NONTOXIC antifreeze into each jet. Usually, the side jets will take a round one ounce, and the whirlpool jets will take several ounces (about 5 squirts per whirlpool jet).
DO NOT FORGET the small ozone jet that is located in the foot-well of your tub.
*Revision note 2017: Viscount West is now Sunny's Pools & More*
THIS PROMOTION HAS EXPIRED
Viscount Monroe no longer has Billiards, refer to Waterford as clearance center for Tables.
If you want to experience the biggest sale in Michigan on pools, hot tubs, or spas this is an event you wont want to miss! We need to get rid of our overstock and we need your help!
We have pools up to 50% off, up to $2000 off Emerald Spa overstock, plus so much more!
As you prepare to close your pool for winter, save 25% on winter pool covers! There is so much to take advantage of at our annual Labor Day only sale!
Flat Rock location only

One day only

Monday- September 1, 2014- Labor Day
Be sure to check out the other great deals going on this month!