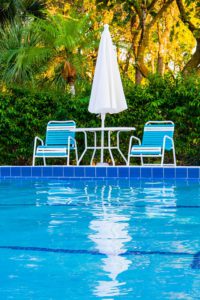 Are you looking to recreate your patio or backyard? Come on over to Sunny's Pools & More! We have everything to make your backyard look awesome! You will want to vacation at home with a new pool or hot tub and astounding surroundings decorated with new top-of-the-line furniture.
Brand-new patio furniture is now available at all of our locations and on display at our stores in Livonia and Macomb. Imagine having summer barbecues and family get-togethers to show off your new swimming pool and hot tub alongside some great patio furniture. There's nothing better than new commodities and family in the summer!
Do you need a new umbrella for your Patio and Backyard furniture?
Is your yard in direct sunlight with no protection from the sun's relentless UV rays? Then you need to get an umbrella to provide you with some shade! An umbrella will cool down your yard and will give you a place to chill out while still getting fresh air. At Sunny's Pools & More, we have the best-branded umbrellas in many colors that are sure to match your visions of a perfect yard.
Instead of spending a lot of money on going on a single vacation, spend a small sum to rejuvenate your yard of which you see year-round. Make some memories at home instead of going away! Also, by installing a pool or hot tub, the market value of your home will exponentially increase. Especially in the Southeast Michigan area. This is because everyone loves cooling down in a pool of their own in Michigan's summer heat!
If any of this entices you, come to visit one of our locations in Flat Rock, Livonia, Macomb, Monroe, or Waterford! Our sales associates are looking to help you make your yard the best that it can be! What are you waiting for? Finally, achieve your patio aesthetic dreams today!
Posted In: Furniture, Umbrellas