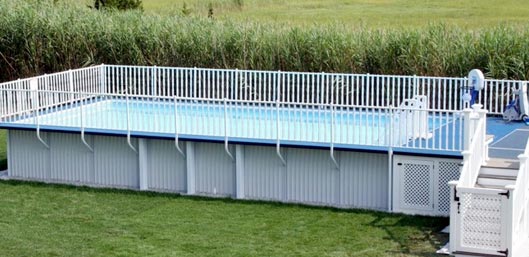 At Sunny's Pools & More in Southeast, MI, we carry an extensive line of above ground pools to choose from. We carry name brand swimming pools from Buster Crabbe and Premium Aluminum. In addition to these brands, we carry a wide variety of models to choose from. Pools such as the Aquasports 52, Admiral's Walk, Torino 52, Premier Aluminum Monument, and the Coliseum.
Above Ground Pool Supplies
Of course, with any new pool, you are going to need chemicals to help keep it clean. We carry an extensive line of pool chemicals to help maintain the health of your pool water. Also, we have all the top brands in chemicals such as Pool Marvel, Baquacil, Nature2, and SeaKlear. If you are looking for a good non-chlorine option, then Baquacil is the right choice. Baquacil will not be harsh on your eyes and will get your pool ready to use in less than 24 hours.
Our experts at Sunny's Pools & More can help you determine which above ground pool is perfect for you and your family. They will also help you determine which chemicals, liners and pumps that are best for the model you choose. After you have picked out your pool, you may ask yourself what about a ladder? Sunny's carries all types of ladders. From your standard ladder to a bigger more accommodating ladder we have the right one for you.
We have four great locations in Flat Rock, Monroe, Macomb, and Waterford.  Stop by today, we can answer any swimming pool, hot tub or game room question you might have. If you are looking for great deals check out our Great Offers page, we update regularly with new deals so check back often. Along with that, we have an exclusive coupons section that can save you even more money!
Posted In: above ground pools, Swimming Pool, Swimming Pool Savings