It is turning out to be a wonderful summer! Perfectly warm weather and plenty of time to lounge by or play in the pool. But is your pool safe from bacteria and other harmful elements? Get some more chlorine and chemicals to keep your family safe during the summer!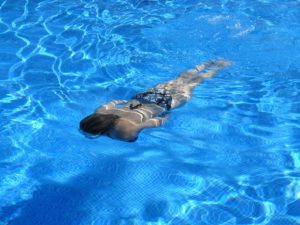 One of the most frequently asked questions about chlorine is which is better; liquid or powder chlorine? There are advantages and disadvantages to each system so it's more of a personal preference. Liquid chlorine is generally the easiest to use because you just pour it into the pool. It is efficient and cheap compared to other pool cleaning methods.
However, for smaller pools, liquid chlorine may damage the lining from its pure strength of it. Powder chlorine is the most popular type used by owners in personal pools. It is an easy way to use sanitizer for your pool. However, it is often more expensive than liquid chlorine.
Why are chlorine and chemicals important?
Chlorine is the chemical that kills bacteria and algae in a pool to make the water cleaner and safer for the swimmers. Without chlorine, deadly pathogens can be contracted through contaminated water. Pathogens such as E. coli, salmonella, and Crypto are waterborne and can become fatal. Luckily, outbreaks are rare because of the use of chlorine and careful watch on the water's pH content and alkalinity.
Are you looking for a better way to sanitize your above-ground pool? Here at Sunny's Pools & More we offer the best brands of chlorine and chemicals at the best prices. We carry brands such as Baquacil, SeaKlear, and many more! Our sales associates can help you decide which brand is best for you and your pool!
Are you interested in chlorine and other chemicals from Sunny's Pools&More? Come on in to one of our locations! We have stores in Flat Rock, Livonia, Macomb, Monroe, and Waterford. Or contact us by form or phone call. We can't wait to meet you!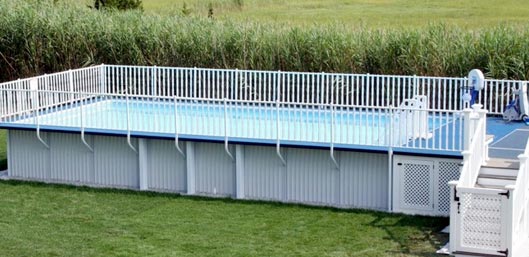 At Sunny's Pools & More in Southeast, MI, we carry an extensive line of above ground pools to choose from. We carry name brand swimming pools from Buster Crabbe and Premium Aluminum. In addition to these brands, we carry a wide variety of models to choose from. Pools such as the Aquasports 52, Admiral's Walk, Torino 52, Premier Aluminum Monument, and the Coliseum.
Above Ground Pool Supplies
Of course, with any new pool, you are going to need chemicals to help keep it clean. We carry an extensive line of pool chemicals to help maintain the health of your pool water. Also, we have all the top brands in chemicals such as Baquacil, Nature2, and SeaKlear. If you are looking for a good non-chlorine option, then Baquacil is the right choice. Baquacil will not be harsh on your eyes and will get your pool ready to use in less than 24 hours.
Our experts at Sunny's Pools & More can help you determine which above-ground pool is perfect for you and your family. They will also help you determine which chemicals, liners, and pumps that are best for the model you choose. After you have picked out your pool, you may ask yourself what about a ladder? Sunny's carries all types of ladders. From your standard ladder to a bigger more accommodating ladder we have the right one for you.
We have four great locations in Flat Rock, Monroe, Macomb, and Waterford.  Stop by today, we can answer any swimming pool, hot tub, or game room question you might have. If you are looking for great deals check out our Great Offers page, we update regularly with new deals so check back often. Along with that, we have an exclusive coupons section that can save you even more money!
*Revision note 2017: Viscount West is now Sunny's Pools & More*
The end of the summer can be devastating to pool loungers everywhere. Don't fret! Summer will be back soon. Until then, preserve the summer glory by taking the necessary steps to properly close your swimming pool in Michigan.
Day 1:
Step 1: Remove all in ground or above ground pool accessories from the pool and test your water!
Before closing your pool, you need to make sure that the pH level in the pool is between 7.6-7.8, the pool alkalinity is 80-100 and the calcium hardness is 150-250. You also need to shock your pool with a chlorine shock to bring the chlorine level to 10-12 ppm. Then, give the pool time to come down to its normal level around 1.5-3.5 ppm before adding your cover or winterizing chemicals. This is a good time to properly winterize your pool to keep the chemistry of the pool on track during its off season.
Is your water balanced? Then, move on to Day 2!
Day 2:
Step 2: Clean and Back Wash the Filter
Relax and take a break. Do a final cleaning of your pool. Is all the debris from the summer fun gone? Do one final brush and vacuum. Next, back wash your filter.