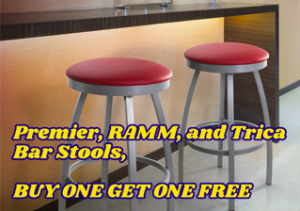 Are you looking for some new bar stools for your home? We have all types of them for sale now at Sunny's Pools and More! Visit the Sunny's location closest to you so you can view our available models on our showroom floor! You can complete your basement, kitchen, game room, or man cave with a new set of stools!
Why purchase bar stools From Sunny's?
High-Quality Brands- Here at Sunny's we supply the best stool brands. Some of our most popular brands include; Premier, RAMM, and Trica. All of the brands we supply are well-known for being dependable, inexpensive, and having long-lasting furniture.
Different Styles- We carry all different styles. Whether you want stools with high or low heights, back or no back, with dark or light coloring, here at Sunny's, we have them all. Make your home look more sleek and polished or bring out a room's personality with the right style bar stools for your home.
New Home Decor- Do you want to find something to spice up your home's aesthetic? Sometimes your house can become too boring or monotonous. With a few new bar stools, you can revive the life of your kitchen! There is nothing else that can make your kitchen island look better beside a few new pieces of furniture!
Are you looking for a great deal on premium stools? Come visit your local Sunny's location today! Our local Sunny's locations include; Macomb, Flat Rock, Monroe, and Waterford. All of our locations have great-quality bar stools for sale at great prices! In addition, if you come in soon, you can take advantage of our Buy One Get One Free Premier, RAMM, and Trica bar stools offer! Finally, if you have any questions or inquiries, contact us today! 
Posted In: Accessories, Furniture, Great Offers
Tags: bar stools, furniture