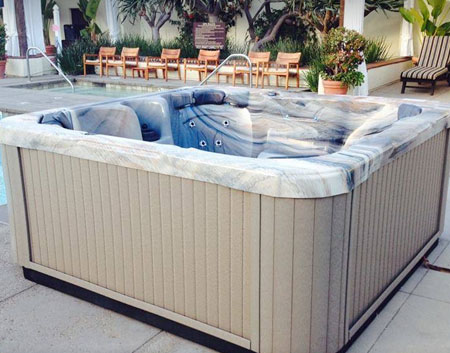 What is the best backyard hot tub setup? After installing a hot tub, you feel like you are on top of the world. Finally, you have a place to soak all your troubles away. Yet, it could be better. The atmosphere is everything when it comes to hot tubing. Like it or not, your hot tub is now part of your backyard aesthetic and you need to decorate according. Whether this is the first addition to your backyard or a later addition, it's time to find the best setup!
Patio Furniture
Patio furniture is always an excellent addition to a backyard area. This furniture gives you a comfortable outdoor living space to enjoy and engage with guests. Nothing is more relaxing than laying outside on a warm summer day, drinking lemonade, and reading a nice book. There are so many ways you can use patio furniture to outfit your outdoor space, especially when you have a hot tub. If your furniture is close to the hot tub, it will allow your guests to relax and chat with you without getting into the tub. You can also use it to keep your stuff safely away from the water without worrying about it being on the ground.
In addition, you can choose the type of furniture that fits your appeal. You can do something bright and simple or sofa-like furniture. You can even have a fire pit. All of these can improve your backyard setup in a heartbeat!
Landscape Enclosure
A backyard is nothing without proper landscaping. After all, how can you enjoy your hot tub time when your landscape is a mess? You should take the time to maintain your backyard frequently. However, you can do more than just basic gardening tasks. Landscape enclosures can be an excellent addition to your hot tub space. You can place an outdoor divider to obscure views of certain parts of your backyard. Add some outdoor decorations to spice up the place, like adding lights and pot holders that would add color and vibrance. You can even add a gazebo just for your hot tub, giving it a whole new space for it.
Best Backyard Hot Tub Setup
With so many options, anyone can create the best backyard hot tub setup. If you are looking for high-quality patio furniture and other hot tub needs, visit Sunny's Pool & More! Sunny's has the latest brands of hot tubs and patio furniture available. Furthermore, we install pools and provide game room furniture like pool tables. So, visit one of our locations today and live your best life!
Posted In: hot tubs, Sunny's Pools & More
Tags: backyard patio furniture, hot tub