Are you looking forward to Halloween this year? We here at Sunny's Pools and More love Halloween, why you might ask? Because we think of Halloween as the official start to hot tub season! What better way to get into the spirit than by having a Halloween themed hot tub party!
Tips on before, during, and after your Halloween Hot Tub party;
Preparing your Hot Tub for the Spooks!
What a great excuse to get your hot tub cleaned and ready! Also,  if it has been a few months since you have had freshwater in your hot tub, drain the water out and clean the surface of the hot tubs shell, lights, and jets. Fill your hot tub back up with fresh water, add sanitizers and water chemicals, clean filters, and even add a SmartBar to your hot tub for easy drink-making connected right to your hot tub! With a drawer and slip-resistant treads, you won't even need to get out!
Hot Tub Danger Decorations
Don't forget to make your hot tub look spooky, even dangerous! Your guests will eat it up, or scream, or be dying to get in! If you have one of our Viking Spas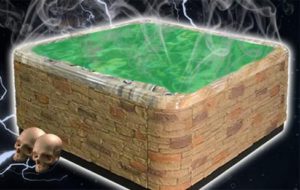 with LED lighting, set your lights to red or green you can even add your own LED hot tub lighting for a more intense scare!
Add a sign to enhance the anticipation of getting into the hot tub! It could be a huge pot of witches brew just for you and your guests. You could add plastic body parts or skeleton bones floating in the water and around your hot tub.
Don't forget the Halloween Treats!
Here are our skeleton hot tub pudding cups for the party!

What you will need:
Festive Cups, Candy Corn and Other decorations, Oreos, Milk, Cinnamon (just a sprinkle), Pudding, Extra candy
1. Make the Pudding!
Mix together milk and pudding packet over a stovetop (if you want the pudding to be a little more "Adult" add a shot of liquor at this step).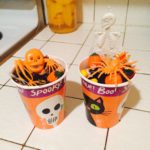 Put the mix into your cups and into the fridge.
2. Decorate!
Here is where it gets fun! Decorate your pudding cup with crushed Oreo, candy corn, and various accessories to make it festive!
These treats are great for the party but not so much for the hot tub, advise your guests to not eat in the hot tub. You don't want food floating in the hot tub or getting clogged in the filter. Remind your guests to stay hydrated through the night if they are drinking alcoholic or sugary drinks, hot water can cause dehydration, time in the hot tub will need to be limited. No problems getting in and out to get your bones back together!
After the hot tub party, Clean up!
When your Halloween hot tub party is over it will be a good idea to rinse and repeat! Do the same thing we suggest pre-party, but it may be even a little deadlier! Drain the water and clean the shell, lights, and filter, make sure all traces of makeup, fake blood, and any other body parts are gone so you can get your hot tub back up and running to enjoy the rest of the season!
Don't forget to remind your guests to bring their suit and towels, provide extra if necessary. In addition, Sunny's is happy to help you with any hot tub questions spooky party or not! Finally, come see us your local hot tub retailer at many locations to serve you in Michigan.
*Revision note 2017: Viscount West is now Sunny's Pools & More*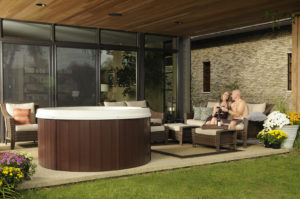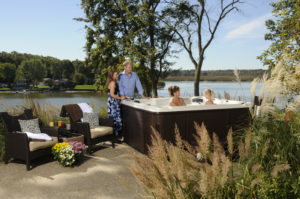 Viking strives to provide the highest quality spas at the most affordable price. Their spas are one of the most energy efficient in drawing the least amount of electricity, while still maintaining optimal water jet pressure. Also, it is their commitment to provide the best value that has earned Viking Spa an impeccable reputation within the spa industry and gained us affiliations with some of the largest retailers in the World. Feel free to check out their products and experience first-hand Viking's value.
Why Choose A Viking Spa?
When you look for a spa, one of the first things to consider is quality. Viking Spas was awarded the Presidential E Award for Exporting Excellence, the first ever in the spa industry. Also, Viking only uses parts made in the United States. Furthermore, Viking has been in business for over 25 years and voted a "Best Buy" by Consumer Reports on a number of occasions. Along with the top quality, Viking stands by their work with a Lifetime Warranty on the spa shell. As well as 6-year parts and labor warranty.
At Viscount Pools West, we can help you determine which spa is right for you. Viking has a variety of models to choose from such as:
The Viking Series
Aurora Series
Royale Series
Regal Series
Legacy & Legend Series
Heritage & Tradition Series
Visit one of your local Viscount Pools West locations today to find out which spa is best for you!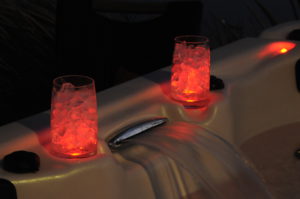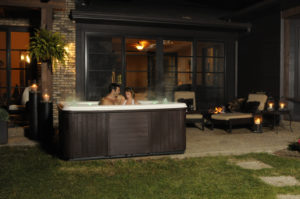 *Revision note 2017: Viscount West is now Sunny's Pools & More*
Dimension One Spas (D1) is the leading manufacturer of award-winning hot tubs and swim spas and home to the world's first curvilinear spa. D1 Spas is based in Carlsbad, CA and sold through a network of retailers in the United States and worldwide. With over 35 years of experience, the company's four product lines and patented features offer a higher class of design, performance, and value that meet a variety of consumer needs. In 2007, D1 was awarded the Silver Medal Shingo Prize, becoming the world's first and only hot tub manufacturer to receive the distinguished award. D1's hot tubs have also achieved the Spasearch Buyer Guide's highest "Recommended" rating.
Dimension One Spas, founded in 1977, has grown to become one of the world's leading manufacturers of hot tubs and swim spas.
At Viscount Pools West, we can help you find the hot tub that best suits you and your family. Also, we carry a variety of Dimension One spas to choose from. Models such as:
The Bay Collections
Reflections Collection
@Home Collection
AquaFIT Systems
Furthermore, a Dimension Spa is one fo the highest quality hot tubs in the industry. Dimension has been awarded numerous awards in the innovation field of hot tubs. Also, Dimension stands behind their products with Lifetime Warranties on the shell. In addition to the hot tub you always wanted, Viscount Pools West can help you find the covers and chemicals you need to help maintain your spa for years to come.
Contact Viscount Pools West today for the spa of your dreams!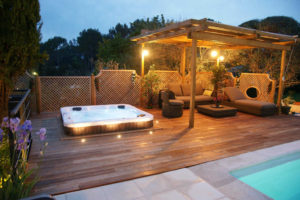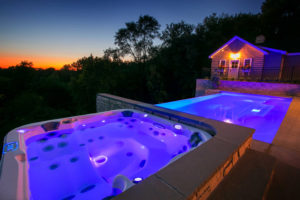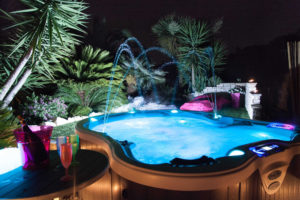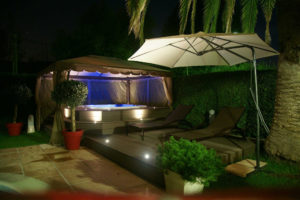 *Revision note 2017: Viscount West is now Sunny's Pools & More*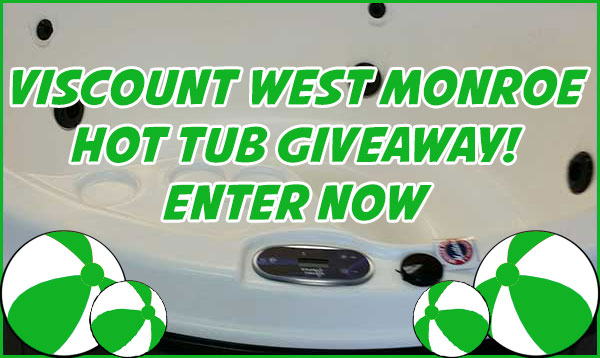 CONTEST HAS EXPIRED
At Viscount West, we are always running great contests and deals for you t o win great prizes.
There is still time. The Monroe County Fair runs until August 6th which gives you time to stop by and visit the Viscount West booth for your chance to win a free hot tub! That is right, we are giving away a free hot tub to one lucky winner. To enter is really simple, you have to be a Michigan resident and provide a name, email, phone and address. A winner will be drawn at random so hurry and enter today!
Contests and Deals – Pool Breeze

Pool Breeze is a great cleaning solution for your pool water. Pool Breeze filter cleaner polishes the water by collecting the tiny particles that cause cloudiness into larger particles the filter can remove, leaving the water crystal clear!  For a limited time, Viscount West is offering a bottle of Pool Breeze for free.
Click here and print out the page and bring it in to any Viscount West location. Pool Breeze is made by Lonza, one of the industry leading specialty chemical manufacturer and supplier in the world. Not only does Lonza produce Pool Breeze but they also offer Poolife brand pool chemicals.
The poolife brand has a complete line of Algaecides, Balancers, Maintenance Products, Sanitizers, Shock and Oxidizers as well as Pool Care Systems. At Viscount West we carry a full line of pool and hot tub chemicals to help you maintain your water.
Along with poolife, we also carry Spa Marvel. Spa Marvel  is one of the industry leading water treatment  and conditioners on the market today. Spa Marvel's products are environmentally-friendly enzyme based spa-water treatment product that can help drastically reduce the need for many other chemicals in your spa water.
Viscount West offers a wide variety of pool or spa chemicals for you to help maintain your water. Give us a call today or visit one of our great locations for more information on products helpful for your pool or spa!