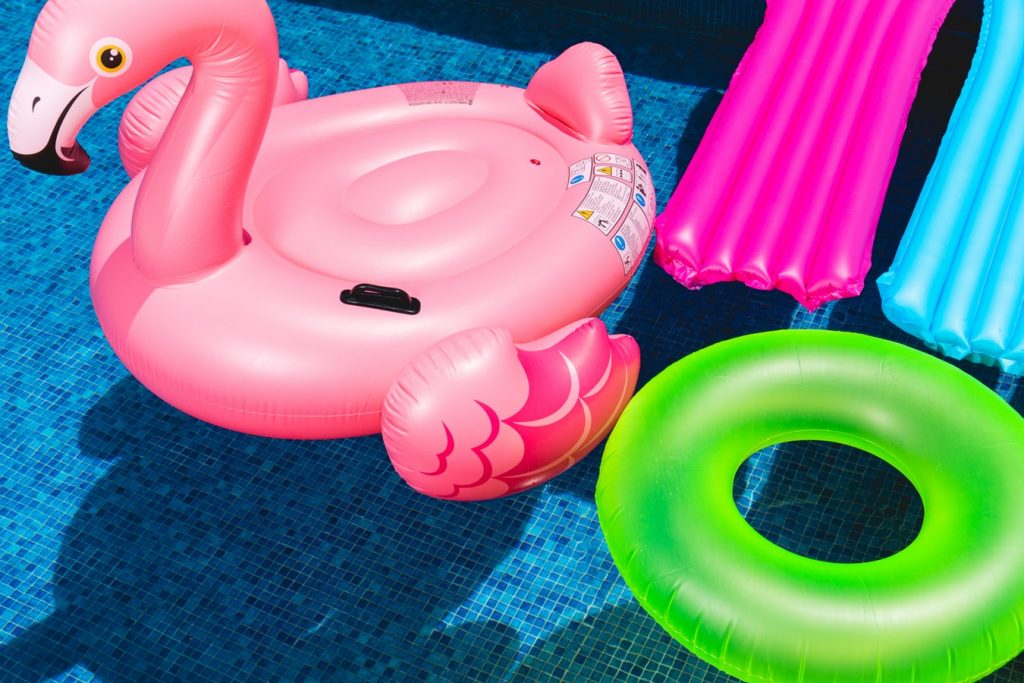 Nothing is more relaxing in the Summer than laying out on an inflatable raft on the water. You can play with some toys and when you get tired, you can relax and maybe take a nap!  But which pool inflatables and pool toys are the best to use this Summer?
The Best and Most Popular Pool Inflatables this Year
Swimline Ultimate Floating Lounger
The Ultimate Floating Lounger is more similar to a recliner than a raft. If you just want to relax and tan while floating, this is the raft for you.
The Flower Float is a pretty flower shape that allows you to lay out comfortably. If you want your pool to look like a beautiful pond, get the Swimline Flower Float!
The floating basketball hoop is fun for any age. The hoop allows for an easy game between family and friends.
Calling all Food Lovers, we have the perfect rafts for you! Our pizza raft is a long raft that you can stretch out on and the donut raft is an inter tube that you can enjoy!
What are the best games to play in a pool?
Seahorse Races
All you need for this game is kids and noodles. Each player gets a noodle to place between their legs and ride like a seahorse. On the count of three, the players race to the other side and the first one to reach the other side wins!
Cannonball Contest
The cannonball contest is very fun! When it is your turn, tuck your legs up to your chest and try to make the biggest splash! Whomever makes the biggest splash wins!
Marco Polo
This pool game is a classic. "Marco" keeps their eyes closed and calls out to the other players for hints. "Polo" answers the calls and tries to avoid "Marco". But don't forget, if you think that "Polo" is out of the water, open your eyes and call them out by yelling "FISH OUT OF WATER"! If you catch them, they become "Marco" and the game continues!
Iceberg
Iceberg is essentially freeze tag for the pool. When the person who is it tags you, you have to freeze and spread your arms and legs. You can be "unfrozen" when another player swims through your legs. 
For more information on our inflatables, toys, and accessories, contact us or visit one of our locations today! Also, don't forget to check out our great deals for any specials we may have!
Posted In: Accessories
Tags: inflatables, Pool Toys, SUmmer Fun