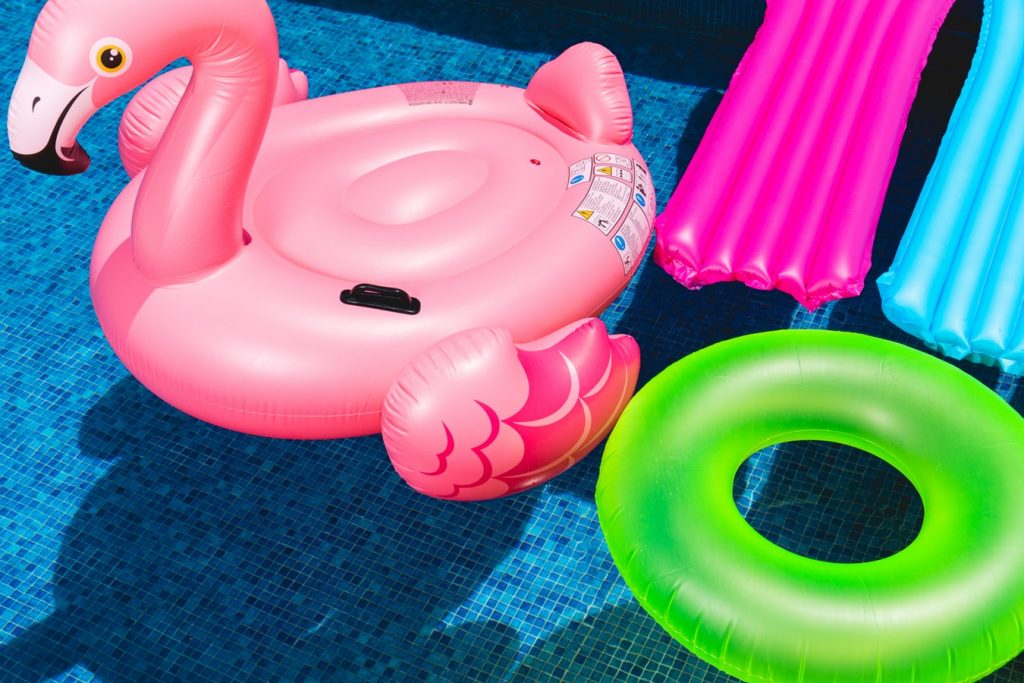 Nothing is more relaxing in the Summer than laying out on an inflatable raft on the water. You can play with some toys and when you get tired, you can relax and maybe take a nap!  But which pool inflatables and pool toys are the best to use this Summer?
The Best and Most Popular Pool Inflatables this Year
Swimline Ultimate Floating Lounger
The Ultimate Floating Lounger is more similar to a recliner than a raft. If you just want to relax and tan while floating, this is the raft for you.
The Flower Float is a pretty flower shape that allows you to lay out comfortably. If you want your pool to look like a beautiful pond, get the Swimline Flower Float!
The floating basketball hoop is fun for any age. The hoop allows for an easy game between family and friends.
Calling all Food Lovers, we have the perfect rafts for you! Our pizza raft is a long raft that you can stretch out on and the donut raft is an inter tube that you can enjoy!
What are the best games to play in a pool?
Seahorse Races
All you need for this game is kids and noodles. Each player gets a noodle to place between their legs and ride like a seahorse. On the count of three, the players race to the other side and the first one to reach the other side wins!
Cannonball Contest
The cannonball contest is very fun! When it is your turn, tuck your legs up to your chest and try to make the biggest splash! Whomever makes the biggest splash wins!
Marco Polo
This pool game is a classic. "Marco" keeps their eyes closed and calls out to the other players for hints. "Polo" answers the calls and tries to avoid "Marco". But don't forget, if you think that "Polo" is out of the water, open your eyes and call them out by yelling "FISH OUT OF WATER"! If you catch them, they become "Marco" and the game continues!
Iceberg
Iceberg is essentially freeze tag for the pool. When the person who is it tags you, you have to freeze and spread your arms and legs. You can be "unfrozen" when another player swims through your legs. 
For more information on our inflatables, toys, and accessories, contact us or visit one of our locations today! Also, don't forget to check out our great deals for any specials we may have!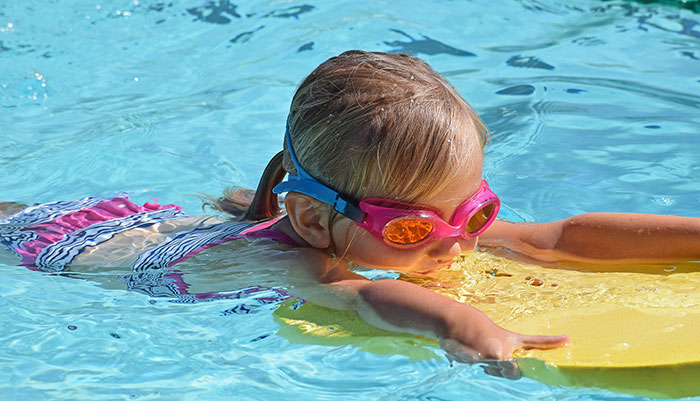 When you purchase your new swimming pool from Sunny's Pools & More, there are some swimming pool safety tips you should consider for your whole family. Enjoying your new pool with the family is a great way to spend your summer days. To keep everyone safe, here is a list of tips that help you enjoy your pool safely.
Swimming Pool Safety Tips Fencing
No matter if you have an above-ground or semi-inground pool, you should always consider a fence. You cannot monitor your pool 24/7, with a protective locked fence, you can keep kids out when not supervised. In addition, some cities require a fence at a certain height as well. For above ground make sure to have a lockable ladder or steps as well. Also, you may consider an alarm system for added protection.
First Aid and Chemical Safety
Having a first aid near the pool area is always a good idea. For deeper pools, a life ring or a life hook should be close by as well. A life hook can be used to pull someone to safety quickly and is always recommended. Make sure to inspect your first aid kit, life ring, and life hook each season to assure they are in proper condition. Pool chemicals are a necessity to keep your pool water clean and safe.
When it comes to chemicals make sure to store them properly. Younger kids may get into the chemicals harming themselves. Also, make sure to wear protective wear when handling chemicals. Finally, store your chemicals in a well ventilated and secure area out of reach of small children (pets too!).
Drain Covers, CPR and Rules
One thing people do not think of are drain covers. Small young children have been hurt from the suction of drains so make sure to properly cover the drain or filter. Owners of private swimming pools should have at least one person who knows CPR.  Hopefully, you will not have to use it, but having someone who knows it is always a good idea. Setting some base rules for everyone is another great safety step. Rules such as no running on a wet deck, or no swimming without an adult. Setting rules will help keep everyone safe.
These are just a few tips of having a safe pool this summer. Of course, if you are looking for a new pool, visit your local Sunny's Pools & More for everything you need to build the pool of your dreams!