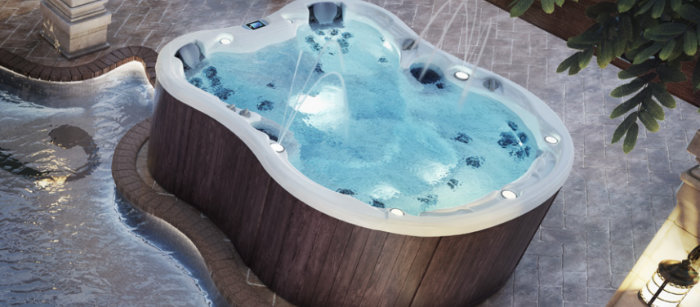 Sunny's Pools & More offers some of the best hot tub deals in Macomb.  At our Macomb location on 51113 Industrial, Macomb, MI 48042, we have a huge showroom. In addition, we have an experienced staff to answer all your hot tub questions.  We have a huge selection of Dimension One and Viking Hot Tubs to choose from.  Each model offers different features for all types of people.
Great Hot Tub Deals In Macomb From Sunny's
Dimension One spa has been around since 1977 and offers great value and features for the price. Also, they have a large array of models to choose from. The Reflections Collection is the performance line, while the Bay Collection offers more power and innovation.  These hot tubs offer great features such as therapy pillows, SmartHUBs, and much more.
Another great line of hot tubs is the Viking hot tubs. These hot tubs offer comfort and relaxation at an affordable price. Viking hot tubs also offer a wide variety of features. Features such as LED lighting, sanitizing ozonation, and water features. From the Elite Series to the Plug-n-Play, Viking Hot Tubs have options for everyone.
Hot Tub Deals
At Sunny's Pools & More, we have great offers for all our hot tubs.  First up is 60-month finance with no interest on Viking Hot Tub models.  In addition, we offer large discounts on Dimension Ona Spas as well.  Not only do we have deals on hot tubs, but we also offer great deals on chemicals and accessories as well. Right now we are offering free delivery on spa covers with free disposal of the old ones. In addition, you can get free shipping on spa chemicals.
Sunny's Pools & More always has great deals on everything you need to keep your hot tub up and running all year round. Finally, give us a call today in Macomb at 586-677-7665 to learn even more about all the great offers we have on hot tubs.
Posted In: Dimension One Spas, Hot Tub