*Revision note 2017: Viscount West is now Sunny's Pools & More*
Are you looking to replace or upgrade your current hot tub or spa? Looking to purchase your first spa or hot tub? Why not find yourself a spa that gives you a relaxing and customizable experience all year round. From hot tubs to swim spas, Dimension One Spa has changed the game when it comes to spas and hot tubs.
You may be asking yourself, "What is so special about Dimension One hot tubs or spas?" The answer, Dimension One Spa combines technology with luxurious hot tubs or swim spas to give you a fully custom spa experience. Do you want lights? Music? Jets? Control all of this and more with the touchscreen control pane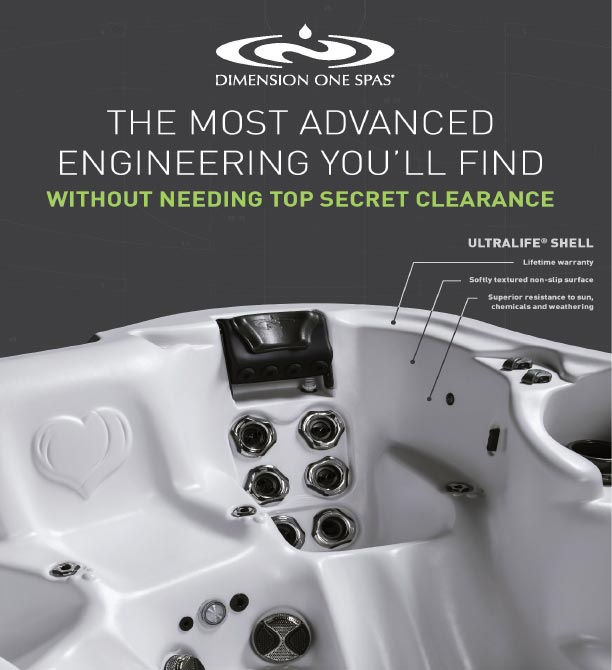 l. Your relaxing spa experience is all in your hands!
Dimension One Spa Dealer
Here are just some of the Dimension One products that we carry at your local hot tub dealer location in Michigan:
AquaFit Systems
Bay Collection
Reflections Collection
At Home Collection
With a variety of options, you will be able to find the perfect hot tub or swim spa to fit your space. Outdoor or indoor, in ground or above ground, the options are endless and they are completely up to you!
When looking to purchase hot tubs in Michigan whether it is downriver or northern Oakland County, Viscount Pools West offers superior customer satisfaction. As you local spa dealers in Livonia, Flat Rock, Monroe, Macomb, or Waterford, we will help you get the best deal on Dimension One spas or hot tubs.
For more information on Dimension One products, contact your local Viscount West location today. Also, we will help you find the perfect hot tub or swim spa for you and your family. Also, ask about financing options available to you when you purchase a new Dimension One hot tub or swim spa.
Finally, be sure to check out our great offers available at Viscount West today!
Posted In: hot tubs, Outdoor Hot Tub Spas, Spas
Tags: Dimension one hot tubs, Dimension One spas, hot tub financing, hot tub or spa, hot tubs michigan, swim spa