You haven't really enjoyed one of the finer things in life until you've experienced Dimension One Spa's AquaFit hot tubs. With summer winding down, now is the perfect time to get one. This revolutionary spa line was created to enhance the quality of life for you, your friends and your family. It's like having your own personal gym right inside of your hot tub!
Different Types of AquaFit Hot Tubs
AquaFit Sport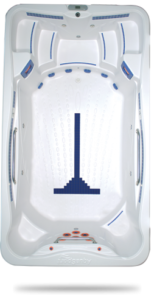 If you enjoy having fun while working out, the AquaFit Sport is just for you. This hot tub combines cross-training functionality with powerful swim jets to get the maximum range of motion. Not only does this hot tub have a unique layout and standard HydroSport equipment, but it is also the first spa to incorporate the best water management in the hot tub industry. The AquaFit Sport swim spa is designed to give you sparkling, clean water during every exercise.
AquaFit Play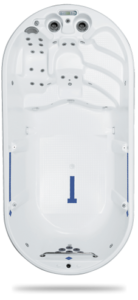 Sitting 192 inches long and 90 inches wide, the Aquafit Play is the perfect mini pool for you and your family. This particular pool is a mid range swim spa (half hot tub, half swim spa) and is equipped with 6 high-volume swim jets, a wide swim lane with non-slip surfaces, a max therapy seat for an after-play water massage and is adjustable for pressure and speed. This pure, clean water swim spa tops it off with an optional stereo and lighting package that you all will enjoy.
AquaFit Pro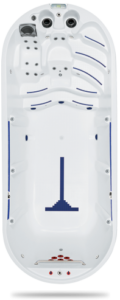 Talk about "brother from another mother"! The AquaFit Pro is typically known as the big brother to the AquaFit Sport swim spa. This hot tub is versatile and is packed with places to workout, relax and have fun. The AquaFit Pro has powerful swim spa jets that are positioned to offer you a challenging swim. Once you're finished having fun, working out, relaxing, etc., this spa allows for you to cool down with massage jets in the Max Therapy seat that's equipped with a patented, ultra-relaxing Jet Therapy pillow.
AquaFit Plus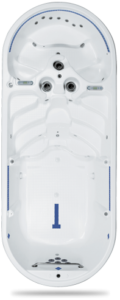 Why settle when you could have the ultimate hybrid of fitness and fun with The AquaFit Plus? This swim spa everything you need and more. With its dual-temperature feature, it keeps you at a peak performance temp during the most vigorous workout, while the other side of the hot tub warms up for a soothing, post-exercise soak. The AquaFit Plus is the most dynamic swim spa available and is suited for anyone who enjoys full-body and cardiovascular workouts.
We Sell AquaFit Hot Tubs at Sunny's!
Are you interested in purchasing an AquaFit hot tub in the near future? Sunny's Pools & More Inc. sells them! Although you swim in these types of hot tubs all year long, you do not want to miss out on this great opportunity. Stop by any one of our locations to get pricing and more information. Don't wait to experience one of the finer things in life!  If you have any further questions, please do not hesitate to contact us.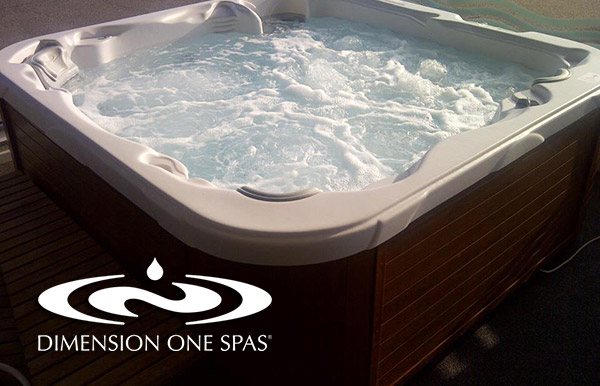 Do the winter months here in Michigan, tend to gert you down? The doldrums of winter can get to just about anyone. Why not spice up your winters and springs with one of our new Dimension One Spas. Have you ever come home from a hard day at work with a sore back or feet? A nice soak in  Dimension One Spas can help relieve those aching muscles.
Why Choose Dimension One Spas?
Dimension One has been around since 1977, and have extensive experience in the hot tub industry. They are one of the leading companies in the industry. Along with excellent customer service, Dimension One has been one one of the most awarded spa manufacturers. Awards such as The Shingo Prize (awarded for excellence in manufacturing),  Stevie Award for Best Customer Service, Inspire Award, Exporter of the Year Award and many more.
Dimension One offers four lines of hot tubs, they are the Bay Collection, Reflections Collection, @Home Collection and the AquaFIT Swim Spas. Each one of these lines offers unique features to fulfill the needs of many hot tub owners.
There are actually many medical benefits to owning a hot tub as well. Some of these benefits include stress relief, fibromyalgia and arthritis relief, blood pressure, and help improve sleep quality. Also, your new hot tub would provide a great place to entertain guests and become a focal point to your backyard.
Sunny's Pools Dimension One Spas Dealer
If you are looking for a great investment for the family with your tax return, visit the experts at Sunny's Pools & More. We can help you find the spa that best fit your needs. Whether it be an AquaFIT Swim Spa or a relaxing Reflections spa, we can find the right one for you.
Visit one of our great locations today for more information on Dimension One Spas, you will be glad you did!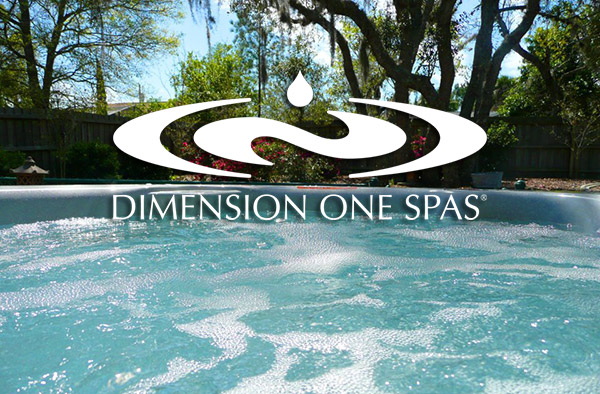 *Revision note 2017: Viscount West is now Sunny's Pools & More*
Are you looking to replace or upgrade your current hot tub or spa? Looking to purchase your first spa or hot tub? Why not find yourself a spa that gives you a relaxing and customizable experience all year round. From hot tubs to swim spas, Dimension One Spa has changed the game when it comes to spas and hot tubs.
You may be asking yourself, "What is so special about Dimension One hot tubs or spas?" The answer, Dimension One Spa combines technology with luxurious hot tubs or swim spas to give you a fully custom spa experience. Do you want lights? Music? Jets? Control all of this and more with the touchscreen control pane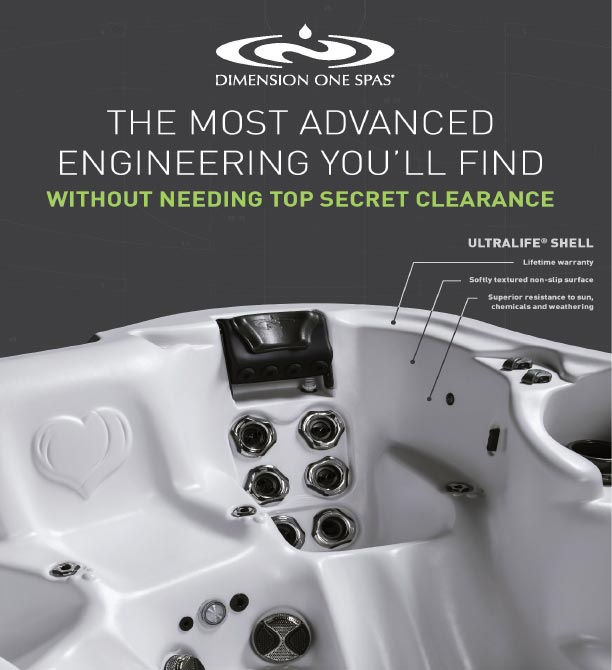 l. Your relaxing spa experience is all in your hands!
Dimension One Spa Dealer
Here are just some of the Dimension One products that we carry at your local hot tub dealer location in Michigan:
AquaFit Systems
Bay Collection
Reflections Collection
At Home Collection
With a variety of options, you will be able to find the perfect hot tub or swim spa to fit your space. Outdoor or indoor, in ground or above ground, the options are endless and they are completely up to you!
When looking to purchase hot tubs in Michigan whether it is downriver or northern Oakland County, Viscount Pools West offers superior customer satisfaction. As you local spa dealers in Livonia, Flat Rock, Monroe, Macomb, or Waterford, we will help you get the best deal on Dimension One spas or hot tubs.
For more information on Dimension One products, contact your local Viscount West location today. Also, we will help you find the perfect hot tub or swim spa for you and your family. Also, ask about financing options available to you when you purchase a new Dimension One hot tub or swim spa.
Finally, be sure to check out our great offers available at Viscount West today!