When it comes to your hot tub, nothing matters more than making sure that your water health is in tip-top shape. In fact, in regards to safety, monitoring your pool water should be your number one priority. What better way to maintain your water than to have a pool monitoring system? The pHin monitoring system is a system that detects your water 24/7, whenever your water is in need of upkeep. One of the many benefits of this specific monitoring system is that it alerts your phone, by an app, to let you know the condition of your water. Based on the results will determine whether or not you'll need to add extra chemicals to balance out your pool's pH levels.
A few other benefits include: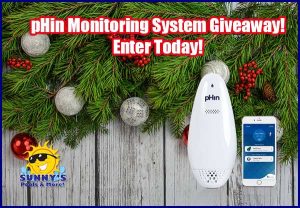 Availability: measures chlorine, bromine, pH and temperature 24/7
Flexibility: works with chlorine, hot tubs and salt and bromine pools
Simplicity: can be used with any chemical brand
The Importance of Water Health
It's one thing to own a hot tub, but it's another thing to own a system to help monitor one. As a pool owner, it is crucial that you recognize and understand the importance of water testing. Regardless of whatever time of year it is, there are proper ways to go about upkeeping your pool. By effectively monitoring your hot tub will help to eliminate a lot of unnecessary work when it comes time to reopen your pool. Since Michigan is known for reaching freezing temperatures, it is advised to take extra precautions and steps for water testing to help save time and money in the long run.
Come on Over to Sunny's!
This season, don't wait 'til the last minute to get your water tested. Come to any local Sunny's location and experience the good life (like our Facebook giveaway winner, Katie Fusco), with our new pHin monitoring system. Why settle when you could avoid the hassle of bacteria and algae in the midst of pool cleaning. We encourage you to contact us to get yours today!
Posted In: Hot Tub, Water Maintenance, Water Testing